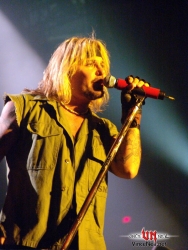 Dallas, TX, December 27, 2009 --(
PR.com
)-- Motley Crue's Vince Neil is planning an extensive South American tour in February 2010. The tour has confirmed stops in Brazil, Argentina and Chile with more countries and dates to be announced soon. The tour is being organized by Gabe Reed Productions who also promoted the opening night of the KISS Alive 35 South America tour in Santiago, Chile on April 3, 2009.
Confirmed South American dates are as follows:
FEB 24 - Santiago, Chile (Venue TBA)
FEB 26 - Buenos Aires, Argentina (El Teatro)
FEB 27 - Sao Paulo, Brazil (Carioca)
Vince is currently recording his new solo album, "Tattoos And Tequila," with bassist Dana Strum and Jeff Blando (both of Slaughter) and drummer Zoltan Chaney. One of the tracks being laid down during the sessions is a cover version of the Creedence Clearwater Revival classic "Who'll Stop The Rain?" An April release is expected.
In a recent interview with The News Tribune, Vince stated about the upcoming CD's title, "It's rock 'n' roll. That's it. It has nothing to do with Motley Crue. Tattoos and tequila is basically my life."
According to the Las Vegas Review-Journal, Neil is also writing a book akin to Motley's autobiography, "The Dirt," with Esquire writer Mike Sager.
###