Gossimer Has Opened Its Treasure Chest for Webhost Resellers
Gossimer, the fast growing domain name registration and web hosting company has yet again opened its door of their reseller program. This program offers a comprehensive web hosting product portfolio for resellers and resellers of Gossimer's resellers.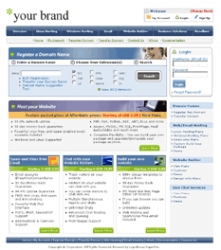 Melbourne, FL, January 16, 2010 --(
PR.com
)-- Gossimer, the Melbourne-based (Florida) domain name registration and web hosting company has yet again opened up its door for
webhosting resellers
. The company has updated its web hosting reseller program to meet the changing needs of web hosting market. The company provides a full-range of products and services to assist resellers build their web hosting business from scratch.
The product portfolio offered by Gossimer contains a complete Linux and Windows webhosting solution, domain registration feature, e-mails with anti-spam and antivirus protection, website builder program, and various digital certificate products. It also offers a handful of free services like privacy protection, domain theft protection, bulk tools, mail forwarding, DNS service, wild-card sub-domain forwarding, etc., with every domain name registered through Gossimer.
Along with offering a compressive product portfolio, Gossimer offers a private-labeled website for all its resellers as well their resellers. It also provides a multilingual control panel with each reseller account to assist the resellers operate and market their products and services using the local language of the countries they serve.
"With emerging forces like India and China, the web will become vernacular sooner than later, so we have decided to provide Gossimer's reseller accounts with a multilingual control panel. This will help our resellers use each and every unique feature that we provide," said Marvin Dreyer, CEO of Gossimer.
Gossimer provides its resellers with a comprehensive API to enable seamless integration with Gossimer's main system. It also provides a complete business process automation solution to assist its resellers to take their web hosting business on autopilot. From sales and marketing automation to finance and billing automation to provisioning automation, the automated solution will help resellers take control of every aspect of their web hosting business.
To keep its service secure and reliable, Gossimer has adopted the concept of a globally distributed virtual datacenter to host its products and services. This state-of-the-art infrastructure helps Gossimer provide speedy, reliable, and secure web hosting services to its customers as well as resellers. It also helps in providing the promised server uptime. The company has its data centers located in Australia, India, the UK, and the USA, which helps the company extend its global reach. The installation of globally distributed virtual datacenter has helped the company make its infrastructure scalable and reliable.
About Gossimer, LLC
Gossimer is a full-feature, fast growing domain name registration and webhosting company. Since 2001, Gossimer is providing web hosting, email hosting, and
domain registration
services from Florida. The company is well known for its exceptionally responsive customer support, knowledgeable technical support, server uptime, and attractive web hosting packages.
For more information, please visit: http://www.gossimer.com
###
Contact
Gossimer, LLC
Marvin Dreyer
888-902-4678
www.Gossimer.com

Contact