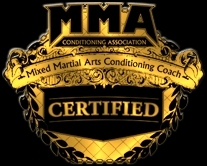 Rancho Santa Margarita, CA, January 06, 2010 --(
PR.com
)-- The Mixed Martial Arts Conditioning Association (MMACA) wants to create super human athletes through the most advanced conditioning principles and practices available.
According to the MMA Conditioning Association, the MMA Conditioning Coach Certification program was developed in response to the skyrocketing global growth of mixed martial arts (also known as MMA). Mixed martial arts is the fastest growing sport in the world today, and yet, until now, there hasn't been a unified method and practice of conditioning its athletes. MMA is based on seamless "a mix" of various martial arts such as Brazilian jiu jitsu, traditional boxing, muay thai and American wrestling. However, to date, there hadn't been a unified and recognized method of conditioning for this global phenomenon.
"We do not teach any fighting tactics or strategies. There are specific coaches for that. We educate coaches, fighters and trainers on the advanced science and practical application of conditioning methodologies for MMA," says Dr. John Spencer Ellis, CEO of the MMA Conditioning Association. "New graduates of the MMA Conditioning Coach Certification course will have earned their certification. Nobody gets a free ride. It's tough, just like the athletes. In addition to the science, training and coaching techniques, they also are taught emerging business and marketing strategies specific to MMA. It's important that our new and long-term members and graduates are financially successful, not just respected conditioning coaches. This will allow for longevity and overall success of the sport," adds Ellis.
The course takes well over 60 hours of study to complete. The MMA Conditioning Coach Certification course curriculum is delivered in a comprehensive online format using audios, video, PDFs, Powerpoints, discussion boards and a lot of continuing education. If you are interested in becoming a Certified MMA Conditioning Coach, visit the official site
http://www.mmaca.net
.
###