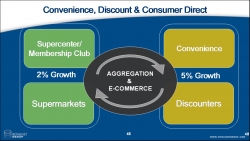 Waltham, MA, January 05, 2010 --(
PR.com
)-- RetailNet Group has released its latest forecast of the Top 100 Global Retailers with a number of surprises despite the forecast not including any continued consolidation from M&A activity that is sure to come.
RetailNet Group's global retailing forecast is based on a very conservative, slow growth, forecast for developed markets and with faster but dampened growth in developing markets.
In developed markets, social dynamics, slow income growth, continued deleveraging and constrained access to credit will be among the drivers of a slow growth recovery.
In developing and emerging markets, the dramatic growth of the middle class in the past 10 years in markets like Mexico, Brazil, China, Russian and India who together represent over 44% of the global population will moderate and has even retrenched in the current recession according to some indicators. These segments of the population are the key organic drivers of retail demand.
On the store based retail side, store growth will continue to decline overall, despite favorable interest rates for those retailers with access to credit and willingness to add stores while potentially diluting their traffic and sales over more square feet in order to grow top-line and defend share of spend.
Overall, we see a lot of regeneration of existing boxes and replacements or additions with smaller stores overall.
In the developed world, RNG foresees big boxes following the same cycle as destination malls: reasons... Societal trends - aging doesn't work with large stores, Convenience choice - consumers are increasingly in control and define what convenience and value are, SKU rationalization reduces the rationale for large stores substituting eretail where it doesn't require massive CAPEX for delivering the long tail of variety and specialization.
Retailers who have done well in the current economic environment are those who jumped on the optimization track early on, reducing overhead, investment (inventory and net working capital) while improving productivity of departments, categories and whole formats with Category Lifecycle Management strategies, assortment optimization and demand based pricing programs.
Private Label came into the limelight a great deal in 2009 and you can expect continued success in 2010 both due to continued consumer value orientation as well as strategic retailer branding and marketing programs that are gaining credibility and satisfaction from Shoppers trying to make trade offs in how they
make ends meet.
For more deeper explanation of these trends and for access to the ranking report download their newsletter here
http://archive.constantcontact.com/fs028/1102142477435/archive/1102914470911.html
###