Curtis Dyna-Fog (USA) Assists in Aftermath of Earthquake in Haiti
Curtis Dyna-Fog of Westfield, Indiana assists in Haiti recovery effort by donating fogging machines to help control the spread of disease.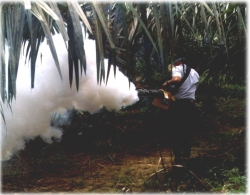 Westfield, IN, January 15, 2010 --(
PR.com
)-- With an estimate that some say could reach in the tens of thousands dead, the earthquake in Haiti is the worst in the region in 200 years. "It's incredible," President Jean Preval told CNN. "A lot of houses destroyed, hospitals, schools, personal homes. A lot of people in the street dead. ... I'm still looking to understand the magnitude of the event and how to manage." Curtis Dyna-Fog located in Westfield, Indiana is not new to being involved in such horrific natural disasters. They design and manufacture sprayers and foggers specifically for these kind of events. Today, Dyna-Fog is donating some of their equipment for use in helping the survivors and helping to control the spread of disease in Haiti. One of the machines named the "Falcon" is a hand carried thermal fogger that operates on gasoline making it totally portable and ideal for working in the harsh conditions. It will be used to control disease carrying insects as well as perform disinfecting and odor control functions. Another unit Dyna-Fog is supplying is their "Sani-Tizer". It operates on electricity and will be used in more confined areas to control mosquitoes as well as sanitize and disinfect. "Our intention is to supply equipment that can immediately be used to help the people of Haiti. There are more urgent situations they are dealing with now so we need to get the machines into the right hands so that they are ready when needed," says Conrad McGinnis, President of Curtis Dyna-Fog. According to Dyna-Fog's distributor for Haiti, Greg McKee of Caribbean Power, SA and who is currently in northern Haiti "right now things are in chaos, communication is near impossible, main roads are impassable and we are working on getting equipment to the right people."
###
Contact
Curtis Dyna-Fog, Ltd.
Dennis Roudebush
317-896-2561
www.dynafog.com
Webster Peterson, Matt Tandy- North America, Mexico
Don Grayson- International

Contact
Multimedia
Used for disinfecting, deodorizing and insect control. For more info see: http://www.airemate.com/ or call 317-896-2561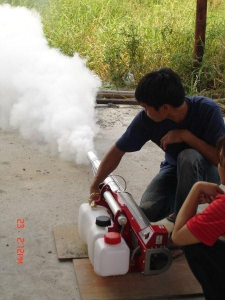 Used for large scale control of mosquitoes and other insects that transmit diseases. The Falcon is also excellent for doing odor control and disinfecting large areas.