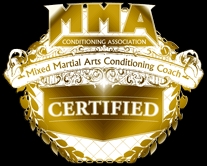 Rancho Santa Margarita, CA, January 18, 2010 --(
PR.com
)-- The sport of mixed martial arts (commonly called MMA) has come a long way since law makers in the early 1990s called it "cock fighting". Today, it is legalized in almost every state in the U.S., has tens of millions of loyal fans and is practiced by a million people in the U.S. In an effort to further legitimize the sport, decrease training related injuries and make high performance athletes, the MMA Conditioning Association was formed. Its MMA Conditioning Coach Certification program is having a global launch on January 21.
"As with any evolving sport, there comes a time for structure and formalization. Our intent is to create standards for the conditioning aspects of MMA, not the actual fighting techniques. That is up to the martial arts instructors. By developing a world-class team of educators, scientists, researchers, physiologists, strength coaches and top professional fighters, we created protocols that can be adapted for MMA fighters ranging from beginner to a world champion," states CEO, Dr. John Spencer Ellis.
Because of the legions of loyal MMA fans, the MMA Conditioning Association has also created training routines for hard core fitness and MMA enthusiasts who want to train like a fighter, but have no desire to get punched in the face.
"We want MMA fans to experience a challenging and appropriate MMA-type workout. So, we are also teaching our members how to conduct MMA fitness classes. I promise, these are not your typical workouts. By giving our certified coaches multiple business options, we help grow the industry and create financial security for our members," adds Ellis.
The MMA Conditioning Association is offering its education, certification and membership benefits in a high-tech online delivery system. Because of this, members are expected from around the world. For details, visit the official site at
http://www.mmaca.net
.
###