Back Yard Burgers Launches Website, Social Media Campaign and Free Burgers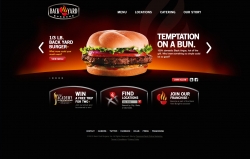 Nashville, TN, January 22, 2010 --(
PR.com
)-- The specialty char-grilled burger chain, Back Yard Burgers, is partnering with award-winning Paramore|Redd Online Marketing and launching a new website and social media campaign yielding participants a free burger.
Bob Page, chief operating officer for Back Yard Burgers, said the cooked-to-order, char-grilled experts are aggressively marketing their premium burger through social media avenues, a new enterprise for the 23-year-old company.
"In 1987, founder Lattimore Michael perfected the one-of-a-kind, back yard style hamburger which has grown rapidly in its popularity throughout the Midwest and southeastern United States. As we begin this new decade, we are embracing our tried and true homemade style burger and chicken sandwiches while launching a progressive website to communicate our premium burger offers and engage our loyal fans and new customers with interactive social media," Page said.
Page said the company's partnership with Paramore|Redd, a Nashville-based on-line marketing and interactive agency, has helped them navigate through the myriad of internet marketing options. Paramore|Redd Creative Director Brad Haynes explains the website launch needed to be reinforced with an all-inclusive social media campaign.
"Back Yard Burgers is a perfect example of a smart company launching a premium website to reflect the product it offers to the public. We knew the Back Yard Burger fan needed more than a great website so we are reinforcing the launch with a full social and online media strategy," Haynes said.
Visitors to the website who join the eClub get a free burger including, for a limited time, the new Smoked Gouda Cheeseburger available through February 28, 2010. The latest news and offers are also available via Facebook and Twitter.
Specializing in 100% Black Angus Burgers and grilled chicken sandwiches, Back Yard Burgers was founded in 1987 in Cleveland, Mississippi. Today, based in Nashville, Tennessee, there are more than 120 restaurants operating in 20 states. For more information, visit Back Yard Burgers website or check them out on Facebook and Twitter.
###
Contact
McNulty Communications
Nancy McNulty
615-791-6456

Contact