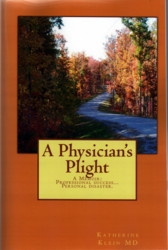 Rochester, NY, January 25, 2010 --(
PR.com
)-- Not since the War of the Roses, has a book about divorce been this powerful, especially since A Physician's Plight is true. Katherine Klein is an ambitious young woman who lands into medical school while married to a boastful, nonproductive spouse. Katherine weaves her medical training skillfully into her home life in this memoir and we find ourselves cheering her on as she finally flees her smothering marriage, but astonished when she gets more than she gambled for. A Physician's Plight is readily available at Amazon.com and expanded distribution networks.
Dr. Klein writes a compelling story which is extremely insightful of her struggle through the legal system. "Despite my parents telling me I was making a mistake, I made a bad choice in partners. I didn't know that choice would plague me the rest of my life. Nor did I know that the legal system doesn't bail you out to set things right. On the contrary, family court decisions can be downright unjust."
After leaving her husband, Dr. Klein is threatened, harassed, and stalked. She continues to provide unconditional love to her children and maintains competency as an anesthesiologist. But her legal battle doesn't go away. "U.S. family courts," she said, "can uphold discrepancy of income as an excuse to order an earning spouse to foot the other spouse's legal bills both during and after a divorce. At certain times, this made my ex-spouse unstoppable in his pursuit of continued litigation."
The pain Katherine feels with the loss of her children is real. This is a must read for anyone contemplating a serious relationship, getting married, or considering a divorce - especially with child custody or support issues. This memoir is eye-opening and a page-turner.
Katherine Klein MD is a retired physician who devotes herself to multiple philanthropic projects and speaking engagements. This book was her priority.
A Physician's Plight can be found on Amazon.com or
https://www.createspace.com/3422779
###