Olive's Organic Botanicals Facial Replenisher Cleanser with Carrot Seed Was Voted One of the "Top Five Best Facial Cleansers" December 2009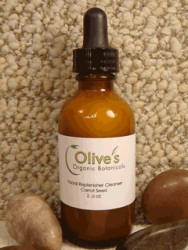 Akron, OH, January 25, 2010 --(
PR.com
)-- Olive's Organic Botanicals
Facial Replenisher Cleanser with Carrot Seed
was voted one of the "Top Five Best Facial Cleansers" – December, 2009 by Marta Wohrle, Founder of Truth In Aging.
Olive's Facial Replenisher Cleanser with Carrot Seed is another successful creation by Trina Felber, owner and formulator. The Carrot Seed Facial Cleanser is soft, gentle and comprised of 100% USDA organic cleansing botanicals. This rich blend of organic carrot seed, organic rosehip and organic jojoba oils which form a gentle, nourishing facial cleanser designed specifically for normal to oily skin. This cleanser leaves your skin soft and nourished, not oily or dry. "Olive's sales have jumped over 400% with the launch of this product, I am excited at how well it's selling" states Trina Felber.
"After a chance encounter with Olive's Organic Botanicals, I became acquainted with one of the simplest and strangest cleansers I have ever tried (and believe me, there has been a fair share). Olive's Facial Replenisher Cleanser with Carrot Seed is simple not so much in execution as in composition. The formula is composed of nothing more than seven organic oils and extracts housed in an amber glass dropper bottle. When sedentary, the yellowish oils sink to the bottom while layer of creamy goodness settles on top. But once opened, a single squeeze of the dropper blends these two parts into a redolent potion that transports you to a dewy forest floor, or a tranquil moment with a strong cup of tea. After rinsing it off, my skin tone seems brighter and my pores smaller, there is a clean softness, as well as a tightening sensation that makes a follow-up with moisturizer particularly satisfying." Reviewed and highly recommended by Copley for Truth in Aging in October 2009.
Another Olives Organic Botanicals client; Terri wrote "when I rinsed it off, my skin was silky, clean, and not the slightest bit dry. It felt great. Not to mention that I love the earthy smell of the product. I have been using this for a while now and still have a lot left, so a little literally goes a long way."
Resolve To Go Toxin Free In 2010; Olive's Organic Botanicals challenges everyone to a resolution worth keeping. A resolution that improves your health and is so easy, no one will not even consider breaking it. Resolve to rid your beauty regime of toxins. Olive's challenges anyone to read the labels of their current beauty products. If the products contain: phthalates, petrochemicals, propylene glycol, synthetic fragrances, sodium laurel sulfate, 1,4-Dioxane, parabens, lead or chemical preservatives listed in the ingredient list, your body is being polluted with toxins. A simple solution exists: Allow Olive's a chance to improve the quality of your health. All products contain only
certified organic ingredients
and are free from all toxins, chemicals, fillers, and are always cruelty free. Furthermore, Olive's Organic Botanicals does not use any alcohol in the products. All products are sized to last between 1-2 months with regular use 1-2 times a day and are not watered down because they are very concentrated, so only a very small amount is needed.
Company:
Olive's Organic Botanicals uses a proprietary blend of luxurious botanicals that are readily absorbed by the skin to maintain moisture and natural elasticity. Olive's does not use any artificial fragrances. All products have a light, natural scent derived from the botanicals. All products are cruelty-free and not tested on animals and are truly 100% USDA organic. For more information visit http://www.olivesorganicbotanicals.com
Truth In Aging is an online magazine that tests, reviews and recommends products to its readers. Truth In Aging is "dedicated to honest, unbiased reporting amidst claims that are often misleading and confusing". Marta founded Accord Media in 2008 to publish Truth In Aging with a mission to offer truthful and unbiased guidance to people seeking to improve their physical health and appearance through skin care, hair care, health and beauty products, and salon and clinical treatments. www.truthinaging.com Olive's products are featured on Marta Wohrle's shop on www.theopenskyproject.com.
###
Contact
Olives Organic Botanicals
Trina Felber
330-366-6548
www.olivesorganicbotanicals.com

Contact