DeZon Media Presents the All-Star Weekend Celebrity Tattoo Suite & "Tattoo Magazine" Photo Shoot
The Tattoo Suite will be a completely private and super VIP experience with guests being hand picked to attend. The intimate group of celebrities, entertainment industry elite & tastemakers who decide to participate will enjoy a fun, relaxing and discreet atmosphere with first class service and the highest caliber of luxury amenities. And most importantly, there will be lots of fun to be had.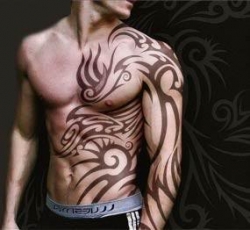 Dallas, TX, January 26, 2010 --(
PR.com
)-- Tattoo Body Art Party
Who: NBA All-Star Celebrity Tattoo Suite
What: Tatto, Body Art Event & Photo Shoot By "Tattoo Magazine"
When: Friday February 12, 2010, Noon - 7pm
Where: Tba, Dallas, TX, USA
Why: To Benefit Parkland Foundation Burn Center
Tattoo Artists and Celebrities unite for an All-Star Body Art Party to benefit the Parkland Foundation Burn Center
Welcome to Dallas All-Star Weekend 2010. With a plethora of parties, glitz and glamour among the many festivities will be notable Tattoo artists, athletes and celebrities all coming together to party for a cause. Professional Tattoo Artists, Body Painters, Henna Artists, Piercing Specialists, Tribal Artists, Brow and Lash Extension Specialists will be on hand to showcase some of the best body artwork in the world for one mission: to raise money for the Parkland Foundation Burn Center in Dallas, TX.
Award-winning "Boze," of Pride Ink in Maui, is one of their 20 confirmed featured artists. Please RSVP your A&B list celebrity/athlete clients who will be in Dallas during NBA All Star weekend. Please contact Maria Lewis with Dezon Media to RSVP at: ml@dezonmedia.com, 716.575.5256.
This is a charitable event to raise money for the burn center of Parkland Hospital – www.parklandfoundation.org. The cost of a tattoo will be approximately $5-$8 US dollars per minute ($2-$4 US dollars will go to artist). We are looking forward to having an awesome time at this grand event. So come join us for the 2010 All-star Weekend and gain exposure to some of the industry most elite.
###
Contact
DeZon Media
Maria Lewis
716-575-5256
www.dezonmedia.com

Contact
Multimedia
NBA All-Star Weekend Exclusive Celebrity Event. Tattoo Magazine photo shoot and tattoo suite.