Artist Joe Blessett New Release, the Jason Priest Project
Joe Blessett continues to move forward following the success from earlier release of The End from U Can Trust Me. Das Begining from the Jason Priest Project and Good-Bye from the soon to be released Rededemtion for the Fallen continue to show promise of success.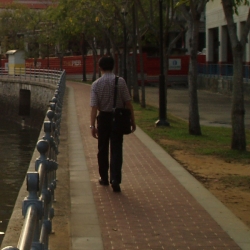 Panama City, FL, January 29, 2010 --(
PR.com
)-- Joe Blessett must be an interesting guy, because he states that he wanted to put out all the sounds in his head and let people hear what he's hearing.
There must be quite a few things going on in his head, because that's more or less what this sounds like and it's oddly appealing. "The End" is a very repetitive piece, almost like a simple loop that should be boring, but actually works rather well. "Good-bye mp.3" has a minimalist feel, again fairly repetitive with a few different ideas popping up here and there like the odd sax fill or trumpet or female vocal. It's not as good as "The End" but has its moments.
Then there's "Das Begining" which is much more of a New Age styled piece, quite long, but ethereal and well executed. Lots of different things going on here and it's all rather interesting and well-recorded.
Fan comments:
Thursday January 28 2010 01:57 PM "Sweet Blessett Music!!!"
Tuesday January 26 2010 12:59 PM "not sure y but i like it"
Thursday January 21 2010 01:21 AM "Thanks for getting more diverse music out there."
Sunday January 17 2010 05:42 AM "Feel the heat is pretty cool. :) Thanks for the song."
www.joeblessett.com
###
Contact
Joe Blessett
850-319-3831
www.joeblessett.com

Contact