Critics Embrace Laurence Fuller's West End Debut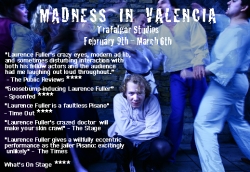 London, United Kingdom, February 22, 2010 --(
PR.com
)-- Laurence Fuller's West End debut is a hit with critics. His eery and powerful portrayal of a 16th century doctor in charge of an insane asylum receives glowing reviews by London's theatre critics.
Fuller is happy with the extreme response;
"It's great the response has been positive, I'm most happy for this character that the response was extreme one way or the other. As this was a lost classic it was a blank slate and a chance to do something new with a classic piece without being compared to a previous performance by one of the great actors, which is often the problem I find with classic pieces. So I wanted to take risks with it and make it my own."
Madness In Valencia was written in 1590 by Lope De Vega. This production was translated by David Johnson, directed by Simon Evans and originally ran at The White Bear in 2009 before receiving a transfer from Trafalgar Studios. Fuller re-teams with director Simon Evans, the pair also worked together on the Time Out critic's choice show Misanthrope at The White Bear.
For more information on Laurence Fuller visit
www.laurencefuller.com
Reviews;
"Brash, bawdy and travelling at a thunderous speed (quite literally - the floorboards were convulsing beneath me)... Special mention should be given to Laurence Fuller, whose crazed doctor Pisano will make your skin crawl... This show could play to 1,500 at the Globe Theatre, and be a success. Someone get Dominic Dromgoole on the phone." - Lalayn Baluch, The Stage
"A stand out performance for me was Pisano (Laurence Fuller) the only real madman of the piece, who ironically is meant to be the doctor responsible for bringing sanity back to the apparent 'Looney's' of the madhouse. His crazy eyes, modern ad lib, and sometimes disturbing interaction with both his fellow actors and the audience had me laughing out loud throughout." - Jenni Rymer, The Public Reviews
"Laurence Fuller is a faultless Pisano." - Lucy Powell, Time Out (Critics Choice)
"Laurence Fuller gives a willfully eccentric performance as the jailer Pisano: excitingly unlikely." - Dominic Maxwell, The Times
"The piece's true madman Pisano – well realised by goose-bump inducing Laurence Fuller." - Jeremy Williams, Spoonfed
"This is a funny, bouncy play performed with enthusiasm and gusto." Louise Gooding, What's On Stage
"Laurence Fuller's ad-libbing simian doctor has taken over the asylum." - Music OMH
"Joyously grotesque performances." - Sam Marlowe, Time Out
(One to watch) Metro - (Must Book) Sunday Telegraph - (Hot Recommendation) Fringe Review
Madness In Valencia runs at Trafalgar Studios until March 6th.
###
Contact
Actor's International
Kay Potter
+44(0)2072429300
http://www.laurencefuller.com

Contact