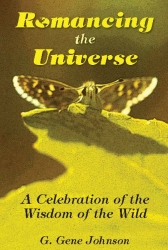 Green Bay, WI, March 01, 2010 --(
PR.com
)-- After having spent 30 years looking at the world through a "wide-angle lens," naturalist/philosopher G. Gene Johnson, offers the reader a remarkable vision across boundaries; a vision which recognizes earth's unity, shares earth's community, celebrates earth's diversity, honors earth's circularity, participates in earth's reciprocity, and respects earth's numinosity.
By presenting the fundamentals of environmental ethics at their "ground level best," Romancing the Universe, published by
Dog Ear Publishing
, graciously puts the humus back into humanity. Like a shaman at a camp-fire gathering, Johnson "paints the readers into the pictures" as he stories out the fundamental principles of deep ecology. All who enjoy "sunshine on their shoulders" - and relish the smell of the good earth - will find Johnson's invitation to live and love more widely to be compelling. Johnson argues that earth knowledge is self knowledge, and that when we "go out" into nature we are "returning home."
"We cannot save what we do not love, and we cannot love what we do not know," the author writes, "We wounded earth because we failed to love her and she will only be healed as we learn to love her." It is a central thesis of Romancing the Universe that as we heal our relationship with the natural world, we are in essence, healing ourselves. Johnson's evocative prose will inspire many to start on the path toward Self Discovery through Earth Reunion
"As our society becomes increasingly drenched in technological gadgetry, Johnson's urgent plea for intimacy with nature as a vital pathway toward mental and physical restoration is just "what the doctor ordered. Here is a voice "crying for the wilderness" with a salvic message that could benefit millions!"
Gene Stone, Associate Professor of Biology, Walla Walla University
"Gene Johnson, like Solomon of old, crafts for us a love story, sensuous in color, texture, and tone. He stirs the same feelings of kinship and belonging evoked by Henry David Thoreau, Terry Tempest Williams, and Barry Lopez. If you let it, Romancing the Universe will lure you into your own love affair with the cosmos."
James L. Hayward, Research Professor of Biology, Andrews University
"As a master chef creatively blends wild mushrooms, herbs, and rice, Johnson magically blends the scientific, ecological facts with the human psyche, spirit, and will."
Lawrence McCloskey, professor, and chair, LaSierra University
"Those who read Romancing the Universe will not only be rewarded with remarkable insights into how the earth works but will also be haunted by its stirring invitation to honor, respect, cherish and romance the earth."
For more information, visit
ggenejohnsonbooks.com
.
Romancing the Universe: A Celebration of the Wisdom of the Wild
G. Gene Johnson
ISBN: 978-160844-208-9 214 pages 16.00US
Available at Ingram, Amazon.com, Barnes & Noble and fine bookstores everywhere.
###
About Dog Ear Publishing, LLC Dog Ear Publishing offers completely customized self-publishing services for independent authors. We provide cost-effective, fast, and highly profitable services to publish and distribute independently published books. Our book publishing and distribution services reach worldwide. Dog Ear authors retain all rights and complete creative control throughout the entire self-publishing process. Self-publishing services are available globally at www.dogearpublishing.net and from our offices in Indianapolis, Indiana.
Dog Ear Publishing – self-publishing that actually makes sense!