Released Free Edition of the Sci-Fi Ebook "The Alpha Centauri Project – Thinking Worlds"
Author Marco Santini has gladdened his fans by publishing a free edition of his SF novel "The Alpha Centauri project." The work is downloadable from the writer's website.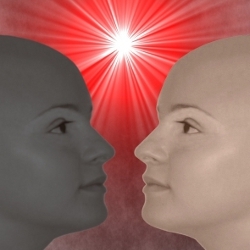 Milan, Italy, March 09, 2010 --(
PR.com
)-- Mr. Santini declares: "I have always dreamt to share the contents of The Alpha Centauri Project with the largest audience. I believe this is the kind of work that can make people reflect on great themes and even change their perspectives."
Diego Della Palma, a distinguished opinion leader and writer, states in his foreword to the Italian edition: "The Alpha Centauri project has made me "feel" a quivering. I could draw these situations in perspective and appreciate these themes unthinkable for me."
Marco Santini explains: "This
cyberpunk science fiction novel
portrays the effects of emerging technologies on human life. Mind digitalization and artificial intelligences, topics belonging to science fiction, turn out to be instruments to investigate human existence, means to evaluate our values and weaknesses. But what attracts me most of all, is the reflection about our current civilization, facing critical issues like the concepts of Good and Bad, the relativity of ethics and its impact on human decisions. I believe that this awareness is a prerequisite to choose sensibly among the several alternatives that high-tech is unfolding."
The author ends: "While writing, I went beyond, wondering about the values and scopes of a civilization evolved well beyond human limits. Only after reading and re-reading this novel, I realized that the consequent change of perspective can justify by itself the whole work."
The paperbacks and the e-books in English, French and Italian can be found on Lulu.com and online book stores such as Amazon and Barnes & Noble.
An overview of the novel as well as the free ebook are available on the Author's website
http://www.squidoo.com/science_fiction_the_alpha_centauri_project_thinking_worlds
###
Lulu.com is the premier marketplace for digital content on the Internet, with over 300,000 recently published titles, and more than 4,000 new titles added each week, created by people in 80 different countries. Lulu is changing the world of publishing by enabling the creators of books, video, periodicals, multimedia and other content to publish their work themselves with complete editorial and copyright control. With Lulu offices in the US, Canada the UK and Europe, Lulu customers can reach the globe.
Marco Santini is an engineer and an MBA with past experience in research, finance and general management. His novel "The Alpha Centauri project" is both a reflection on human existence and an act of trust in the ability of Mankind to manage future challenges.
Contact
Marco Santini
+39 349 6006559
http://www.squidoo.com/science_fiction_the_alpha_centauri_project_thinking_worlds

Contact