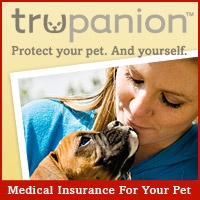 Seattle, WA, March 11, 2010 --(
PR.com
)-- Trupanion, a
pet insurance
company in Seattle, reminds pet owners that pets too can get seasonal allergies which can prove costly and problematic. Trupanion offers pet insurance coverage for allergies in pets and expects to receive a higher volume of allergy-related claims come this spring.
Trupanion recognizes that cat and dog allergies are quite common. Allergies occur more often in dogs and can cause itching, skin infections, hair loss, and pyoderma, better known as "hot spots." Some common allergens include certain foods, fleas, dust, pollen, grass, and trees. Dust mites alone cause as much as 80% of allergies in pets. These seasonal inhalant allergies called atopy, often occur every year. A benefit of enrolling with pet health insurance for your cat or dog at a younger age is that allergies will be covered under Trupanion's policy if it has not been previously diagnosed and considered a pre-existing condition.
Trupanion hopes that all pets can receive the best possible treatment for allergies. As a pet health insurance company, Trupanion provides cat insurance and dog insurance to cover veterinary bills, medications, and diagnostic tests for allergic reactions. When allergies begin for a pet, a blood and skin test must be conducted and they can cost several hundred dollars. Allergy injections and allergy medications, especially Atopic ones can also be quite costly, often ranging from $50-$200 per prescription. Trupanion covers tests and medications if the allergies develop after enrollment.
About Trupanion
Trupanion pet insurance offers
cat insurance
and
dog insurance
in the United States and Canada. Trupanion is self-underwritten by the American Pet Insurance Company, allowing Trupanion to offer a customizable pet insurance policy with no benefit schedules. Enrolled pets receive $20,000 of lifetime coverage for diagnostic tests, surgeries, and medications if they get sick or are injured with no annual limit. Trupanion's mission is to protect the cherished bond between pets and their families by ensuring that pets are able to receive optimal veterinary care. For more information about Trupanion, call 800-569-7913 or visit www.TrupanionPetInsurance.com.
###