Affinity Life Science and JSW Life Sciences Ink Strategic Partnership
Affinity Life Sciences, Inc. and JSW Life Sciences have agreed to a Strategic Partnership designed to expand their capabilities and enhance their service offerings.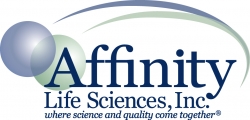 Milford, NH, March 18, 2010 --(
PR.com
)--
Affinity Life Sciences
, Inc. and
JSW Life Sciences
have agreed to a Strategic Partnership designed to enhance Contract Research and Manufacturing capabilities for the medical devices, biotechnology, and pharmaceutical industries as well as governmental and academic agencies. Both Affinity and JSW will continue to offer their products and services under strict quality control measurements which meet government and regulatory requirements such as FDA, EMEA, ISO, and OECED, including GLP/GMP/GxP standards. Each company will continue to operate as independent entities while still having access to the core strengths of each company.
Affinity Life Sciences is a growing contract manufacturing company dedicated to providing scientific expertise as well as a commitment to quality that meets the unique development and production needs of the medical device/pharmaceutical industry. Affinity's controlled and monitored cGMP facility provides custom services including Biomarker and Immnunoassay design and development, in vitro diagnostic kit manufacturing, antibody purification and conjugation, and cell culture services; as well as non-GLP/GLP testing services.
Tod Gavron, President of Affinity Life Sciences, is excited about the potential for growth with this partnership: "This is another important step for Affinity as we continue to strengthen our service offerings. Affinity can now offer its clients expanded drug development services for neurodegenerative diseases from a truly respected and trusted institution like JSW. JSW's expertise as a CRO and its worldwide network will provide clients with an increased knowledge base, global reach, and capacity allowing for even greater flexibility when tackling custom projects."
JSW Life Sciences is a world leading neuroscience CRO specializing in Alzheimer's, Parkinson's, stroke, depression, psychosis, and schizophrenia research services. Offering both in vivo and in vitro services, including transgenic mouse models, JSW provides a complete range of contract services. JSW's strict adherence to quality policies including GLP, GCP, and GxP ensure efficient and timely performance on all projects.
Manfred Windisch, PhD, President of JSW was energized by the partnership: "The synergy between JSW and Affinity Life Sciences provides our customers with additional biomarker assay development and GMP production services in support of drug development studies. This partnership will allow JSW to further serve our North American and European clients with a strong, established company in Affinity."
About Affinity Life Sciences
Affinity Life Sciences was founded in 2005 and offers the pharmaceutical and biotechnology industry a single source for identifying and supplying raw materials, product and process development, manufacturing capabilities, and quality services. Visit Affinity at
www.affinitylifesciences.com
to learn more about Affinity's custom services.
About JSW Lifesciences
JSW Life Sciences is a full service contract research organization. The company performs preclinical as well as clinical research. The preclinical research department focuses on drug development for neurodegenerative diseases. The profound expertise in neuroscience and more than a decade of experience in contract research result in a sustainable advantage for the customer. The clinical research team ensures an efficient development process from First-in-Man (Phase I) up to and including Post-Marketing-Surveillance-Studies (Phase IV). Our customers benefit from the competence teams at JSW, the use of innovative technology as well as scientific and clinical expertise together with a worldwide network. Visit JSW at
www.jsw-lifesciences.com
for further details.
###
Contact
Affinity Life Sciences
Tod Gavron
603-249-1644
www.affinitylifesciences.com

Contact