Landmark Lung Cancer Research Study Approves Only Site in Colorado
Denver CyberKnife obtains IRB approval as the only site in Colorado to participate in a phase IIII lung cancer trial comparing radiosurgery to surgery.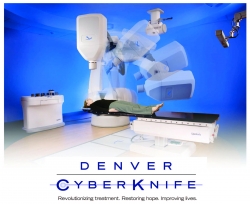 Denver, CO, April 16, 2010 --(
PR.com
)-- Denver CyberKnife radiation oncologist, Dr. Gregg Dickerson, and Cardiovascular Surgical Professionals thoracic surgeon, Dr. Richard Parker, have teamed up as the principal investigators for a clinical trial comparing two standard treatments for early-stage NSCLC (Non-Small Cell Lung Cancer), the most common form of lung cancer.
The STARS (Stereotactic Radiosurgery vs. Surgery) trial will compare the three-year survival rate of patients who undergo a lobectomy, a surgical procedure to remove the tumor, versus CyberKnife treatment, a unique stereotactic body radiotherapy (SBRT) technique that precisely tracks and focuses the radiation on the tumor. SBRT is now an accepted treatment for medically inoperable patients with stage I NSCLC and patients with operable stage I lung cancer who are entered on clinical protocols. The purpose of this study is to conduct a phase III randomized prospective study to compare CyberKnife SBRT with surgery, the current standard of care for stage I operable NSCLC.
"SBRT for lung cancer has demonstrated excellent results for patients with medically inoperable lung cancer," said Dr. Dickerson. "In single institution, non-randomized studies for operable lung cancer, SBRT has shown to maintain at least equivalent results to surgery. Patients will be the real beneficiaries from continued development of treatment alternatives for their conditions."
NSCLC typically advances more slowly than small cell lung cancer. Smoking is the most common cause of lung cancers, including up to 85 percent of NSCLC cases. Denver CyberKnife is the only facility in Colorado to participate in the STARS clinical trial, which is led by M.D. Anderson Cancer Center in Houston, Texas and is enrolling patients in more than 20 centers around the world.
To qualify, prospective participants must be 18 years or older and have Stage I NSCLC. Additional diagnostic testing will be required to determine qualification. Once accepted into the study, participants will be randomly selected to receive surgery or radiation via the CyberKnife; both treatments are FDA-approved for lung cancer. Participants will be followed for three years after treatment, which will include follow-up consultations and additional treatment, if needed.
For additional information about participating in the study, please call (303) 396-1400 or go to
www.DenverCK.com
.
About Denver CyberKnife
Denver CyberKnife is an independent, free-standing radiation therapy center dedicated to treating patients with tumors using image-guided radiosurgery. Denver CyberKnife treats the brain, spine, lung, prostate, pancreas, liver, head and neck, and other conditions throughout the body. Many patients are treated with the CyberKnife for conditions that have been deemed inoperable or from areas that have previously received the maximum level of radiation. The range, accuracy and precision of the CyberKnife system can help target areas that may not be suitable for treatments with traditional surgery, radiation therapy or other radiosurgery systems. The center works with Medicare and with all major commercial insurance companies.
###
Contact
Denver CyberKnife
Tony Rabago
303-396-1400
www.DenverCK.com

Contact