Avionté Announces Launch of New Staffing Industry Blog
Avionté Staffing Software uses blog to share staffing tips, opinions and best practices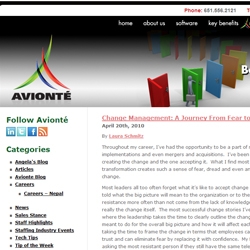 St. Paul, MN, May 06, 2010 --(
PR.com
)-- Avionté, a provider of staffing software solutions, announces the launch of its new staffing industry blog. The blog is as an expansion of the company's recently redesigned website and is rapidly evolving to become a key source of information for the staffing industry as a whole as well as
staffing software
clients and prospects.
The Avionté blog is a collaborative effort among experienced professionals comprising the company's staff. Contributions include posts and perspectives from all Avionté departments generating an array of content to interest a wide variety of professionals who work within the staffing industry.
While the blog was launched only recently, the informational content has rapidly expanded to feature a variety of topics such as staffing news and events, webinars, sales tips, staffing technology and more.
"The use of blogs as a tool for sharing information has accelerated into common practice, and we are excited to use this medium as a way to communicate our staffing experience, opinions and insights with the rest of the industry," said John Long, CEO of Avionté Staffing Software.
In addition to the launch of the blog,
www.avionte.com/blog
, the company has been enhancing and expanding on additional forms of social media such as twitter, LinkedIn and Facebook to assist in sharing information throughout the recruiting and staffing industry.
About Avionté Staffing Software
Avionté Software offers the staffing industry a complete front-and back-office software solution. Creating simplicity and a strong user experience without sacrificing functionality, Avionté includes resume parsing, Dashboard, Outlook® integration and a full suite of applicant, client and employee Web Portals. For more information, please visit www.avionte.com or call 877-428-4668
###
Contact
Avionté Staffing Software
Brenda Long
651-556-2121
www.avionte.com

Contact