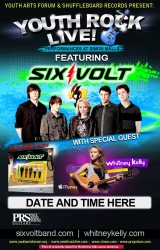 New York, NY, May 11, 2010 --(
PR.com
)-- Six Volt, the young, fresh, and incredibly talented band from New Jersey, is proud to announce the dates of their Summer 2010 tour. The band plays and records all of their music, every note, and will be taking the stage to perform Live in 22 cities beginning on May 31st. They are currently in their Red Bank, NJ studio finalizing their self-titled album, due to release September 14th and the celebrated first single, "Mind On Me," is available digitally on June 1st. Besides their remarkable talent and community esteem, Six Volt is highly respected for their charitable ways - 5% of the band's income goes to the homeless and causes that help the environment.
Six Volt will headline the entire tour, aptly titled "Youth Rock Live!" The shows will take place at various Simon Malls in the Tri-State area and has already lined up sponsors in Shuffleboard Records and The Youth Arts Forum, who will be the official presenters of the event. Paul Reed Smith Guitars, www.prsguitars.com has also joined the tour as a sponsor and Six Volt will be giving away (1) PRS SE model guitar to a lucky fan at each of their 22 Simon Mall shows. Granger Whitelaw, Jr. who is on the Artist roster at PRS plays a custom PRS McCarty made by Paul himself. "I will play this guitar until I am buried with it," said Granger. "It is the Stradivarius of guitars and has tones only found in a PRS." Paul Smith, Founder of PRS says, "I met Granger about 2 years ago and have seen him grow musically. We are honored to support him as a player and Six Volt."
Each date features special opening act and talented musician, Whitney Kelly, also a New Jersey native (Tinton Falls). Kelly will open for Six Volt as well as play during the bands break so they can get out and meet the fans. "This tour is very exciting," says Whitney. "With thousands of fans on YouTube.com, Facebook and MySpace the tour will give me a chance to meet many of them while working with a great band, for a good cause." Whitney has performed live at many venues including PNC Art Center, Liberty State Park, Manhattan Children's Museum and the Count Basie Theater. She also recently completed a music video with Jake T. Austin from Disney's Wizards of Waverly Place for her original song "Watching Over You."
Six Volt, respected as a young band that plays all their music without any professional backup musicians, includes members Nichole Deppe (Vocals), Granger Whitelaw, Jr. (Guitar), Joe Cilento (Guitar), Jake Wood (Bass), and Robby Wood (Drums). The band's fresh sound and talent has earned them high esteem in the Tri-State area and their audience is quickly expanding. In addition, their charitable ways are proof of Six Volt's strong foundation and even stronger potential for success in the future. Check out Six Volt at a city near you:
Date City Venue
May 31st Tinton Falls, NJ Jersey Shore Outlets
June 5th Lake Grove, NY Smith Haven Mall
June 6th Glen Burnie, MD Marley Station Mall
June 13th Gaithersburg, MD Lakeforest Mall
June 19th Yorktown Heights, NY Jefferson Valley Mall
June 20th Livingston, NJ Livingston Mall
June 26th Edison, NJ Menlo Park Mall
June 27th Langhorne, PA Oxford Valley Mall
July 5th Stroudsberg, PA TBA
July 6th Cold Spring, NY TBA
July 10th Marlborough, MA Solomon Pond Mall
July 11th North Attleborough, MA Emerald Square Mall
July 15th Hancock, NY TBA
July 16th Lawrenceville, NJ TBA
July 21st Millstone, NJ TBA
July 22nd Jamison, PA TBA
July 23rd Marlboro, NJ TBA
July 24th Hackensack, NJ The Shops at Riverside
July 25th Hanover, MD Arundel Mills
July 31st Waldorf, MD St. Charles Towne Center
Aug. 1st Media, PA Granite Run Mall
Aug. 7th Toms River, NJ The Ocean County Mall
Aug. 8th Rockaway, NJ Rockaway Town Square
Aug. 14th Waterford, CT Crystal Mall
Aug. 18th Freehold, NJ Freehold Kruise Night
Aug. 21s Westbury, CT The Source
Aug. 22nd North Wales, PA Montgomery Mall
Aug. 28th White Plains, NY The Westchester
Aug. 29th Philadelphia, PA Franklin Milles
Sept. 5th Tinton Falls, NJ Jersey Shore Outlets
For more information, visit:
www.youthartsforum.org
www.simon.com
www.prsguitars.com
For more information on Six Volt, visit
www.sixvoltband.com
or
www.youtube.com/sixvoltband
.
###
Press Inquiries:
Leslie Taylor
Big Machine Media, LLC
646-395-2600
leslie@bigmachinemedia.com
Laura Becker
Big Machine Media, LLC
646-395-2600
laura@bigmachinemedia.com