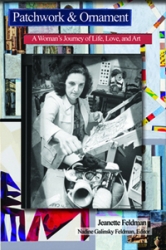 Houston, TX, May 18, 2010 --(
PR.com
)-- Gal in Sky Publishing Company announced today that its latest offering, Patchwork and Ornament: A Woman's Journey of Life, Love, and Art by Jeanette Feldman, has been selected as the winner of the 2010 International Indie Excellence Book Awards, Memoir Category.
Growing up in poverty in the South Bronx during the Great Depression, Ms. Feldman experienced life with an immigrant mother and disabled father. Through the power of art and culture, she transcended her humble beginnings to create a long life filled with love, travel, and creativity.
Patchwork and Ornament includes full-color photographs of the author's art and is presented in a "collage" style of stories, essays, and poetry. Nadine Galinsky Feldman, editor, selected various writings from Ms. Feldman's journals and creative writings that were found after Ms. Feldman's death.
For more information, please visit
www.patchworkornament.com
or contact Nadine Galinsky Feldman of Gal in Sky Publishing Company at 281/573-0483.
###