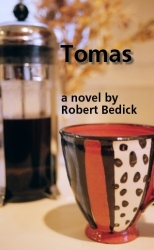 Providence, RI, May 20, 2010 --(
PR.com
)-- He was larger than life, Hemingwayesque, a hero of the Spanish Civil War, a friend of Picasso's, a guru to the 1968 student revolts in Paris. Or was he?
When Paul Weber is first approached by Tomas' widow to write about her "highly influential but criminally obscure" husband, Paul's not sure who she's talking about – Paul has never even heard of Tomas. But the more he learns about Tomas, the more Paul begins to understand that the boundary between Tomas' extraordinary life and the quiet life Paul leads with his wife Sylvia and their young son Josh is not as strong as he first believes.
In Robert Bedick's widely-praised new novel, Tomas (ISBN: 978-0-557-26068-3), the author redefines the suspense novel. He leaves behind the clichés of conspiracies and political intrigue and serial killer reruns. In Tomas he gives us something far more subtle – where the suspense derives from a layered examination of fatherhood, marriage, and love. The trigger? A crate full of Tomas' diaries and one simple image from Paris, 1966: a coffee cup raised by the fleshy vapor of a hand, then set down on a bare table as the saucer is pushed aside. It's enough to make any man question the presumed truths of his own life.
For Robert Bedick, who studied writing at Sarah Lawrence College and won a scholarship to the Bread Loaf Writers' conference, Tomas may be a first novel, but as one reviewer said:
"One thing is for certain about this novel, and it's that this author is already a master of his craft. You can sense the sureness of his touch from the first page onwards, and if this is a first novel then that level of professionalism and self-assurance in the writing is quite remarkable."
And he's not the only reviewer who thinks that Mr. Bedick is a new writer who deserves our attention:
"An entertaining read that's smart, sexy and funny. Anyone who has ever been caught between being suspicious about a lover or just being flat-out paranoid will relate to this clever tale of interwoven lives. I was enthralled!"
"This is a wonderfully written, clever little novel, full of self-deprecating humor -- like Woody Allen playing Sigmund Freud as detective, investigating his own life through another man's memoirs. A pleasure to read!"
"From page one, the author knows how to keep the reader's interest. His dialogue is snappy and real -- you can 'hear' it. The characters are fleshed out and easily believable. The story -- intrigue, mystery, conspiracy, love -- is interwoven with twists that make this a page turner. You want to know these people...you want to have the story resolved. You want to read more! Bring it on Mr. Bedick!"
"Robert Bedick is a writer of substance. Though Tomas may be his first published book this first novel bears all of the traits of a practiced and gifted writer. He knows how to create characters about whom we care (or in some instances, loathe - which is as it should be), he uses the narrator role to perfection, allowing us to understand the man who is sharing his life and work with us in a manner that keeps us involved and cheering, and he has that terrific talent of having a story within a story unfold meaningfully, generously, and yet never pulling interest away from the main story at hand. In all, it works, and works splendidly well!"
Product Details
Paperback: 200 pages
Publisher: lulu.com (February 3, 2010)
Language: English
ISBN-10: 055726068X
ISBN-13: 978-0557260683
Product Dimensions: 6.9 x 4.2 x 0.4 inches
Availability: Amazon paperback and Kindle; Lulu paperback and ebook
###