Tenacent SA Provides a Tool Designed to Secure the Global Supply Chain
DC to Retail and Global Container and Trucking security has been given an additional tool to reduce Shrinkage and Improve Security and Visibility with the availability of Tenacent SA's latest RFID enabled Bolt Seal "TIMSV11."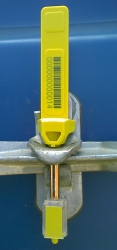 Durban, South Africa, May 28, 2010 --(
PR.com
)-- Tenacent SA has released its latest offering to the Supply Chain Security issue, an EPC/ISO18000-6C ISO17712 industrial strength Bolt seal designed to harden the Supply Chain with Military Type Security features and at an acceptable price.
Based on Industry Standards, the TIMSV11 RFID Bolt Seal, can now be seamlessly integrated into Supply Chains already using the EPC/ISO18000-6C standard type reader equipment and hand-held devices, affording a multilayered approach to Container and Truck security.
The Seal utilizes the passive RFID chip's factory programmed unique ID and the ability to store and lock data into the chips memory to provide a highly secure token to ensure that goods have been passed on between Supply Chain participants in a secure state. This methodology eliminates the need for a proprietary global network and by utilizing internal networks or the internet, the supply chain read events can be collaborated and profiled by a customer receiving the goods or Enforcement Agencies to determine if a positive or negative profile can be attributed to the locked consignment. In it's most basic application; if the seal applied to a truck or container can be read, one can assume it contents are still secure.
The application of the Seal is the same of a traditional bolt seal to cater for areas where a reader is unavailable.
Green-Lanes for AEO's can now become reality with Customs Officials now having access to a tool designed to safely audit the seals origin.
The Proof Of Concept has successfully been demonstrated at the Durban Port's Auto gate witnessed by local staff and groups of delegates from SADC and the SA Customs Union at their last conference held in Durban late 2009.
###
Contact
Tenacent SA
Andy Brown
+27824118359
http://www.tenacent.co.za

Contact