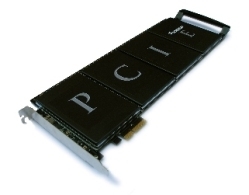 Fremont, CA, June 02, 2010 --(
PR.com
)-- Foremay, Inc., a leader of technology innovations in solid state drives and one of the world's
Top 10 SSD
OEMs, today announced the availability to ship its new EC188 D-series PCIe SSD with standard PCIe card host interfaces in a quad bus slots configuration. The EC188 D-series PCIe SSD product line is designed for high speed, high IOPS, and high concurrent access servers and workstations with x4 PCIe, x8 PCIe or x16 PCIe slots. The EC188 D-series PCIe flash hard drives have ultra-high speeds up to 2.5 GB/s for reading and 2.3 GB/s for writing. It also has ultra-high IOPS of up to 250,000 for both read and write. Its quad bus slots configuration brings the capacity up to 8 Terabytes, or 8,000 GB.
"Our EC188 D-series PCIe solid state drives have been selected for deployment for high end server systems in banks, security/stock exchanges, cloud computing and 3G/4G wireless multimedia centers," said Jason Hoover, Foremay's VP Marketing. "With a quarter million IOPS, the EC188 D-series PCIe SSD helps break the bottleneck in these areas which require high random read and write performance to secure transactions of millions of small files every second."
Application examples for EC188 PCIe SSD drives include:
- Cloud computing servers
- Database storage such as Oracle, MySQL and SQL Severs
- 3G/4G Wireless Mobile Content, Mobile Video/TV and Mobile Internet Systems
- High Performance and High Reliability Banking Systems
- High Responsive Real Time Processing Servers for Stock / Security Exchanges
- I/O Dense Servers/Workstations such as Mail Servers, E-commerce Servers, Data servers, Online Gaming Servers, Web Hosting Severs, and Video Streaming Servers
- Recording/editing/transmitting of film, HD video, and HDTV
- High Concurrent Reading Systems such as Commercial IPTV and VOD Systems
- High Concurrent Writing Systems such as Public Security Surveillance Video Recorders
- EAD / IC design simulation, extraction and verification
- High Speed Enterprise IT Systems and Data Centers
- Fault Tolerant Applications
- High Speed Data Acquisition and Collection
- Medical Imaging
- Scientific Research
- 3D Imaging and Modeling
EC188 D-series PCIe SSD Availability
EC188 D-series PCIe SSD drives are now shipping in volume. For more information about specifications and pricing of the EC188 D-series PCIe SSD, please contact info@foremay.net
About Foremay
Founded in the Silicon Valley in 2002, Foremay, Inc., is a leading company dedicated to technology innovations in Solid State Drives (SSDs) for high-reliability mission-critical computing, industrial computing, enterprise computing, and high-end personal computing. Foremay's vision is to bring to market high reliability, high ruggedness and high performance solid state drives with "Green Initiatives" in mind. Foremay is headquartered in the Silicon Valley, California, USA. For more information and product details please visit www.foremay.net
Press Contacts
Dennis Eodice
pr@foremay.net
+1 408 228 3468
Foremay®, Foremay logo® and EC188™ are all trademarks of Foremay, Inc. Any product name of another company or organization mentioned is the property or trademark of its respective owner.
###