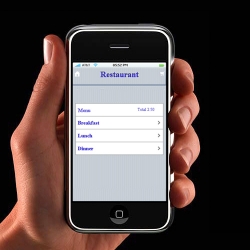 Sausalito, CA, June 04, 2010 --(
PR.com
)-- My Menu Mobile, a restaurant iPhone and smartphone app vendor, has selected Network Intercept's Secure-Me solution to protect user's credit card information as customers place their on-line and mobile orders. My Menu Mobile creates iPhone and smartphone
restaurants apps
so each restaurant has their own app. The restaurant's customers can view their menu, order, and pay all on their smartphone. With the Secure-Me solution all data and payment information will be encrypted end to end and uses verification, which gives users a higher level of protection. The Secure-Me solution protects the user against all forms of identity theft attacks that are known today on mobile phones. The Secure-Me solution encrypts what you type so even if there is an attack that is unknown, the user is still protected. The solution will make all My Menu Mobile apps PCI compliant.
"I am convinced that the Secure-Me mobile solution is the best security solution out there. We know that mobile security cannot be taken lightly which is why we have decided to partner with Network Intercept to protect our customer's data. They really have a unique approach of safeguarding important information against identity theft and viruses." – Lisa Falzone, President for
http://MyMenuMobile.com
My Menu Mobile's decision to partner with Network Intercept will make them one of the most secure smartphone restaurant apps providers. Having the Secure-Me solution will protect customer's payment information against all the major hacking attacks out there today. Customers will be safe to order and pay from their favorite restaurants that have their own app.
About My Menu Mobile:
My Menu Mobile develops and customizes an iPhone and smartphone restaurant app for each one of their clients. Each restaurant's customers can download the free app from the app store and can view the restaurant's app on their iPhone. The customer just clicks on the restaurant's app icon - It is one-click ordering - the customer chooses from the menu, orders directly from the restaurant's app and pays directly from the app.
Contact:
My Menu Mobile Public Relations: 650-804-6980
###