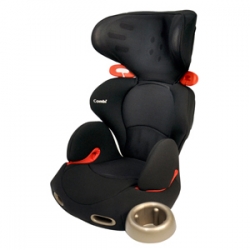 Fort Mill, SC, June 09, 2010 --(
PR.com
)-- Stroller and car seat manufacturer Combi USA launches the Kobuk
Air-Thru Highback to Backless Booster Seat.
Recognizing that safety, comfort and convenience are all important to parents, Combi has restaged the Kobuk, first introduced in 2007, to increase the weight accommodation to 125 pounds and to include the Air-Thru feature—two air vents in both the seat back and seat base, vents in the headrest and mesh fabric allow for air circulation throughout the seat.
The Kobuk Air-Thru can accommodate children from age 3 and between 33 and 125 pounds and from 33 to 57 inches in height, with or without the highback. The Insurance Institute for Highway Safety doesn't recommend backless over highback boosters and vice versa. Backless boosters generally provide better
lap-belt fit, and highbacks generally do a better job of positioning shoulder belts correctly. "Combi recommends use of the highback as long as possible before going backless," said Ed Whitaker, of Combi USA.
To ensure a proper fit, the highback is height adjustable and should be used so that the child's ears are below the top of the seat back. The booster may be used backless if the child's ears are below the top edge of the vehicle seat back or headrest. The built-in belt guides allow for the proper vehicle seat belt positioning. The vehicle shoulder belt should never be placed under a child's arm. Vehicle lap belts should fit low on the child's hips, contacting the thighs.
The Kobuk Air-Thru retails for $89.99. Air-Thru™ is a trademark of Combi USA, Inc.
About Combi USA: Combi, a shortening of the word "combination", refers to the combination of mother and child. Combi USA, Inc., established in 1989, is a subsidiary of Combi Corporation. Established in 1961, Combi Corporation is a Japan-based company that has carefully cultivated a firm and growing foundation of customer trust. For the past forty years, this trust has driven the brand forward as a leader in the juvenile products industry. Since its inception, Combi has remained true to its core commitment to establish healthy living environments for babies. Today, Combi provides safe, original juvenile products for nearly every setting of a child's life. For more information on Combi products, visit www.combi-intl.com.
###