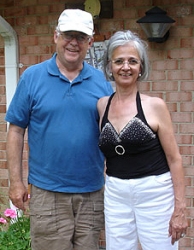 Olney, MD, June 11, 2010 --(
PR.com
)-- With summer decking season in full swing, the memories of winter cold melt away with feet up and a cold beverage in hand. During the winter of 2010, a record snow fall in Washington, D.C. buried Tom and Steph in cabin fever. The delirium of the season gave Steph visions of a new decking surface over their snow covered 22 year old deck. "How about slate, stone, tile or some extremely low maintenance but aesthetically pleasing surface" was the the discussion. "But what about contraction and expansion?" Tom was determined it couldn't be done without issues. Steph would see no other option. "I'm not going to paint those soggy old deck boards one more time. You can do the painting." Not wishing to do the same, Tom got to work.
He talked to employees at a "big box" building supply center. They suggested plywood plus cement board plus tile and grout. Tom realized tile damage occurs when moisture gets under the tile, freezes and breaks the grout, bond or even the tile itself. In addition, where his deck connected to a sun room, there was only 1-1/2" clearance for a new stone surface or he would have to lower the existing deck framing. That was not going to happen. "We didn't like their suggestion." After a brief sulk, Tom got back to action, this time with a new approach– Google internet search. After a lengthy review of many options, none were satisfactory until DexSystems™ appeared in the search results. "I read all of the online literature and concluded that the GratedeX® Outdoor Floor System™ with a 48" x 48" x 1" underlayment panel, stainless steel fasteners and Hold-Tite® TA adhesive provided the best solution for me." And with the tile finish, it wouldn't exceed his 1-1/2" decking height limitation.
So the two retirees, Tom and Steph, at 60 years plus, set about the task. She's an artist and designer of many different things. Tom is a woodworker by hobby. He built the original deck in August of 1988 with two 4x12 beams supported by 6x6 post and 2x10 joist 16" on center. Total square feet : 420.
"I ordered (27) 48" x 48" x 1" GratedeX® system panels, which included the fasteners and adhesive, on March 30, 2010. We had already ordered the tile from The Tile Shop on March 23." The tile was a porcelain 17.5" square, frost resistant with a textured anti slip surface. While waiting for the GratedeX® package to arrive, Tom set about removing the existing decking boards. A wrecking bar, 5 lb. hammer, and an iron pipe to slip over the wrecking bar for additional leverage did the deed. No worse for wear except for the sore shoulder muscles.
Now for something new. With the old decking removed and the existing framing inspected, the GratedeX® underlayment panels "went down with ease and if I were in better condition they would have gone down very fast. A life of desk work as a college counselor and administrator is not great preparation for the up and down of construction work. Even though I worked at retired speed, it only took a few days to cover the entire deck."
The porcelain tile was next. "Based on my limited experience I was certain that the porcelain tile would go down very fast." Tom started with the full pieces. Steph applied the adhesive to the back of each tile and Tom put the tile in place. "After five days working half time with entire days off to rest the back we had the tiles in place. The worst was over."
Tom will be finishing his deck rebuild with cedar deck post, some with lighting and a custom wrought iron railing. "The cost of the system is significant but all the neighbors have been extremely complimentary about the appearance. In addition to 'good looks', the deck surface is maintenance free. It's expensive but worth the investment."
And so, come next winter, Tom and Steph will be anxiously awaiting Spring with a lighter spirit and relaxed thoughts as they consider stepping onto their tiled GratedeX® outdoor floor without the weighty issues of traditional decking maintenance.
###