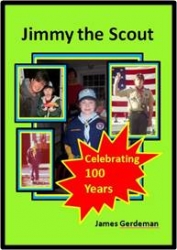 Coral Springs, FL, June 16, 2010 --(
PR.com
)-- James Gerdeman has combined the use of photos from family and friends to accentuate the activities of Scouts. 2% of all Scouts reach the rank of Eagle Scout and there is a special section dedicated to them. Quotes from Scouts of all ages shows that the memories we hold near are dearly set in our minds. The stories of brothers creating merit badges and following the Boy Scout Handbook given to them by a thoughtful neighbor creates the backdrop for fun. Jimmy the Scout is in conjunction with Lulu, the world's provider of print-on-demand books.
Jimmy The Scout is a derivative work from Mr. Gerdeman's Jimmy a story about four boys growing up in Kalida, Ohio in the 50's. Mary Jo, Jim's wife added to the effort with edits and creative changes. New adventures have been added to accentuate the fun of Scouting. This book is meant for preteens and older. Check it out.
Jim came to Lulu because he found there was a well thought out online support for what he wanted to accomplish. Jimmy the Scout is available for purchase at www.lulu.com, in a marketplace filled with other unique surprises.
Link to Publication*: www.JDGerdeman.com for more details and links to www.lulu.com
About Author
James Gerdeman earned an Industrial Engineering degree from the University of Dayton. His book Jimmy, about boys growing up in the 50's, has entertained many. Smoke Signals You Too Can Quit shows his diversity. His first book, Radio Frequency Identification Application 2000, was published by Research Triangle Associates. Jim has always pushed technology for society. He has 10 books to his credit in a variety of topics. Recently Jim has built Photo Radar and Enforcement systems for municipalities. He is expert in RFID in the ORT electronic toll systems. There is more information at www.JDGerdeman.com.
About Lulu
Founded in 2002, Lulu is the world's fastest-growing print-on-demand marketplace for digital do-it-yourselfers. Please see www.lulu.com for more information.
###
Media Contact: James Gerdeman, jdgerdeman@aol.com, Cell Phone 786-256-8902.