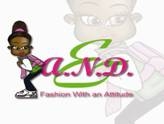 Atlanta, GA, June 18, 2010 --(
PR.com
)-- Since 2009 with her inaugural issue featuring independent women, then 10 year old Ajha Nicole Dortch has combined her love of writing with her love of fashion. "I've put my all into this magazine," says Ajha. "So why not call it by my name?" The letters of the magazine are the initials of her name. With her summer 2010 issue, Ajha travels to Tampa Saturday, June 19, 2010 1pm at Friday Morning Musicale Theater hosting her Conversations-N-Converse® Fashion Show that highlights the popular Converse® tennis shoe. She plans to hold conversations with her fellow Pre-teens introducing her magazine while collecting new or gently used shoes for Haiti. Attendees will be able to subscribe to the bi-annual magazine. Cost of admission: Free with 1 pair of shoes donation.
Bay Area Pros
is a professional services and consulting firm that engages audiences through the creation and delivery of strategic marketing, sales, and business solutions.
Bay Area Pros
clients are from various industries across the globe. The company generates outstanding results for clients through four expert practice groups: Marketing & Communications | Marketing strategies that create identity and awareness. Entertainment | Management of unique artist brands and management of their digital content assets. Business Acceleration | Business & Sales strategy consulting that increases profits. Internet & Mobile Solutions | Online and wireless solutions that drive business and sales.
A.N.D. Magazine is a new biannual magazine for pre-teens by pre-teens based in Atlanta, Ga. Founder, Creator, and Editor-in-Chief: Ajha Nicole Dortch. For more information about A.N.D. Magazine visit the website:
www.ANDMagazineClub.com
###
Monica D. Hardwick of Bay Area Pros Admin@BayAreaPros.Net 727-565-5599