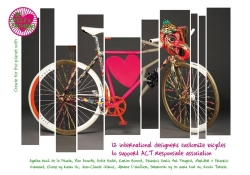 New York, NY, June 21, 2010 --(
PR.com
)-- Be Cycle & Fashion: By transforming these twelve bikes into true pieces of art, artists expressed their vision of an ethical fashion, in line with the times, in order to sensitize the public to experience the daily life and sustainable development in a friendly and creative way.
The Be Cycle & Fashion 2010 Designers
Agatha Ruiz de la Prada, godmother of the operation
Kenzo Takada
Marithe + Francois Girbaud
Jean-Claude Jitrois
Karim Bonnet
Ylan Anoufa
Jerome L'Huillier
Antik Batik
Francois Duris, for Peugeot
Kaori Ito
Swarovski by On Aura Tout Vu
The designers participating to the event all have an eco-responsible attitude on a daily basis. They share the commitment of the ACT Responsible Association, which supports a more responsible communication. With this eco-creative operation that became a reality thanks also to our partner Peugeot, we want to say to all generations that sustainable development, far from being a constraint, can be experienced in a glamorous, trendy and creative way.
Since 2001, the non-profit ACT Responsible association collects international advertising campaigns that promote social and environmental causes. By exhibiting these campaigns to the world, the association seeks to show how the creativity of advertising can be used to help & promote sustainable development issues.
This bikes customisation concept has been created by the Press agency Idenium and co-produced by One Heart Channel a TV channel dedicated to solidarity and environmental causes. One Heart Channel dedicated a site to Be Cycle & Fashion with daily interviews, reports and videos from the making of avaliable on www.oneheartchannel.fr/becycle.
For more information contact anna@oneheartchannel.com or check www.oneheartchannel.com
###