WinTheTrophy's New API Service Lets Developers "Hack" Sports Betting
New API service offers software developers a simple, free and legal way to create automated sports betting programs, test different strategies and compete for recognition as world's top sports betting "hacker."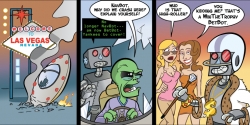 Beaverton, OR, June 22, 2010 --(
PR.com
)--
WinTheTrophy
™ launches the web's first service that allows programmers to create automated sports betting programs -- called BetBots™. Accessible via an
easy-to-use API
, the BetBot service is offered completely free-of-charge to developers.
"For the first time," as Co-Founder Brian Cairns explained, "we now have a 100% open and transparent way to identify and recognize the world's top sports betting 'hackers.' Our service publicly tracks BetBot performance in over 100 sports betting intelligence categories."
Without laying down any real money, programmers are able to develop and test multiple betting strategies on all major U.S. sports using real sportsbook odds. Developers are able to thoroughly test various sports betting strategies without losing any actual money or violating any gambling laws. The service shows how their bets would have played out in real time -- without any financial risk.
As Product Manager Sean Johnson explained, "BetBots allows you to remain disciplined, sticking to a betting strategy completely and factoring out the emotional element of betting."
To access the free BetBot API service, programmers create an account on WinTheTrophy. After the simple sign-up process, they can create up to 20 BetBots, and immediately start testing strategies and competing for recognition as the world's top sports betting hacker.
About WinTheTrophy LLC:
WinTheTrophy is a free sports betting competition that combines sports betting, social gaming, fantasy sports and crowdsourcing into one fun, free and legal experience.
http://winthetrophy.com/
For more information, please, contact Sean Johnson at WinTheTrophy LLC.
Contact:
Sean Johnson
Product Manager
888-988-9545 x4
sean@winthetrophy.com
###
Contact
WinTheTrophy LLC
Sean Johnson
888-988-9545 x4
http://winthetrophy.com/

Contact