New "Gumshoe" Green Product Enters Termite Industry
No longer do you need to use harsh chemicals to control subterranean termites. GumShoe is a patent pending "green" product that stops termites dead in their tracks.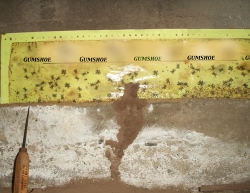 Los Angeles, CA, July 06, 2010 --(
PR.com
)-- For Jim Harrington, killing bugs, termites that is, has been a lifelong obsession and livelihood. His Great Grandfather and Grandfather started Pioneer Ex-Termite Co. in Los Angeles during the great depression some 83 years ago. Jim stepped into the shoes of his father who had done the same.
Chemicals have long been the preferred method for stopping the little devils, subterranean termites, from eating you out of house and home. Chemicals like chlordane and lindane were for years sprayed into the substructures of millions of homes. These chemicals worked great, but turned out to be very persistent, and also ended up in our environment. Other chemicals have come and gone since, but still we continue to poison the environment below our homes.
In 2000 while inspecting a home he discovered subterranean termites stuck to the underside of peel and stick vinyl flooring. At that time the proverbial light bulb went off and he knew that a nondrying, sticky barrier would work to prevent subterranean termites from plying their trade. The product is a strip of tacky material applied in a horizontal manner to the inside of the foundation, just below the mudsill, and also around piers, just below the pad. It is so durable and sticky that it lasts for a long time. Harrington calls it Gumshoe ® and he has a trademark and patent pending on the product.
Essentially all subterranean termites start out in the dirt and begin earnestly building a tube of soil up your foundation. It is a tunnel of sorts where they take lots of soil and spit to create an earthen subway to the object of their desires, your home. This tube is almost always located in the dark substructures of wood framed residences and offers the termites protection from their enemies and the harsh environment. Placing a barrier between the ground and wood prevents the subterranean termites from feasting on your fir. At least that is what Harrington found when he installed his new idea on a home in 2000 and waited and watched. Once the tube reached the Gumshoe ® barrier it essentially stopped. Ten years after he has no termites and a whale of an idea.
After hiring a patent attorney and spending thousands of dollars in legal fees, development costs, and fine tuning the product, he is ready to bring it to market. "I am a nature nut and never really felt comfortable with the chemical options. Still, you have to stop the bugs or the alternative is devastating. Gumshoe ® is a way to do both; help the environment and help homeowners protect their most important investment. Since it is green in color it is not only green its green," Harrington said.
Harrington said the product could be installed by the homeowner but most would rather have a professional slither around in the dark, spider infested crawlspaces and put it in for them. It is not applicable for those homes built on a slab, but for the millions of homes constructed on a foundation it can be a "Lifesaver." Gumshoe ® can be installed in an average 2000 square foot home in a few hours.
Jim is currently looking for licensees to take the product national. Interested vendors can contact Jim directly by calling 1-877-886-2545 or by emailing him at info@gumshoehq.com.
###
Contact
GumShoe Industries
Carl Braun
877-886-2545
http://www.gumshoehq.com

Contact