Popfax.com Introduces Its New Interactive Web Interface
Popfax.com presents its new design with increased number of faxing options and optimized graphical interface. Now, end-users can benefit from more simple and enjoyable process of online faxing.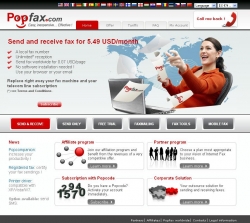 Valley Cottage, NY, July 12, 2010 --(
PR.com
)-- Popfax.com - global internet
fax service
, is taking a "breath of fresh air" by redesigning its web interface for those who want to send and receive faxes more efficiently. Thus, Popfax is changing not only the appearance of the service, but also making the whole process of interaction between the user and the system easier and more user-friendly:
1. It introduces the definition of placement – Users knows exactly where they are and what steps to take, in order to accomplish their goals.
2. The Offer page lists the advantages of
Internet faxing
compared with traditional fax machines.
3. The Subscription process was simplified being completed in 4 steps with minimal information required.
4. Unique area for partners, affiliates and corporate solutions.
5. A personal area which includes all fax tools and options for managing your business communication needs.
5. The web interface is available in more than 20 languages, thus making it a truly global service, available for everyone, everywhere.
With the introduction of this new web design from Popfax, users can manipulate their fax communication needs more easily. That's why it is well worth trying.
###
Contact
Popfax
Iulia Eftodi
+1-201-984-7837
www.popfax.com

Contact