Pierson Workholding Releases the SmartVac II Vacuum Chuck Workholding System
The SmartVac II Vacuum Chuck Workholding System is a powerful yet affordable step into vacuum workholding for manufacturers. The system is revolutionary in the fact that it converts compressed air into a powerful vacuum that exceeds the power of most conventional vacuum pumps. A Starter Package is available and consists of a vacuum chuck base, a vacuum generator and a connection kit.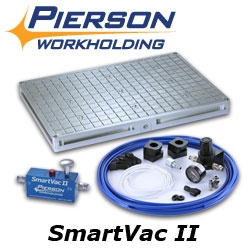 Simi Valley, CA, July 19, 2010 --(
PR.com
)-- Pierson Workholding recently released the SmartVac II
Vacuum Chuck
Workholding System. The system contains many second-generation enhancements over the previous design and is modular in nature. A complete system includes a Vacuum Base, a Vacuum Control Unit (VCU) and a Connection Kit which includes all components necessary to have the system running within minutes of opening the box. One glance at the SmartVac II reveals the quality engineering and manufacturing that goes into the product.
The system uses a stand-alone Vacuum Control Unit (VCU) which is unique in the fact that it uses compressed air to generate a powerful vacuum that meets or exceeds vacuums created by conventional pumps. The design is also efficient by using only 0.8 CFM to create a vacuum power of 28" Hg and does not require any filters or coolant traps. Liquids and particles simply pass through the exhaust with no chance of clogging. The system allows users to link and operate multiple vacuum chucks from one control. The VCU has an integrated vacuum indicator to show when a full vacuum is reached.
The Vacuum Base has a surface area of 14" x 9.5" and provides the ability to independently hold up to 9 parts due to the multiple inlet design. Simply gasket off a section of the grid and remove the vacuum plug for that section. The Base is held to a machine table using the toe clamps included in the Connection Kit. The Base is precision ground flat and parallel to an accuracy of ±0.001".
Interchangeable Top Plates can be used if a part shape cannot be easily held with the grid pattern of the Base. The Top Plates also precision ground flat and parallel and are precisely located and attached to the Base using custom locating bolts.
The system can be easily purchased as the SmartVac II Starter Package which includes one Base, one VCU and a Connection Kit at a discounted price of $995 USD. Everything is manufactured in the U.S. and is backed by Pierson Workholding's lifetime application support which advises customers on any workholding questions. The system can be purchased directly through the Pierson Workholding online store at www.piersonworkholding.com or by calling (800)352-2894.
###
Contact
Pierson Workholding
Jay Pierson
800-352-2894
www.piersonworkholding.com

Contact