nCompass Homes Creates an Outdoor Paradise for One Local Family
An overgrown and virtually unusable backyard gets a face-lift by creating an outdoor paradise that includes dual patios, built-in grill and fire pit, plus a putting green. This backyard haven has something for everyone to enjoy.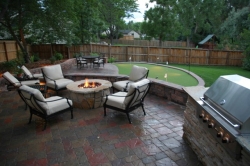 Denver, CO, July 23, 2010 --(
PR.com
)-- Six years ago Dr. Cowen and his family moved into a spacious 5 bedroom, 5,000 square foot home, located in Cherry Hills, Colorado. While the setting of the home was in a beautiful neighborhood, the house built in 1960, was outdated and in desperate need of a face-lift. During the next six years, his home would go through a series of changes throughout the entire house, with the nCompass Homes remodeling team doing the most recent renovations to create the desirable home that Dr. Cowen had always imagined.
While the interior of the home had been redesigned to fit the lifestyle of the Cowan family, the backyard needed a major overhaul. The yard itself was large with mature trees and offered an area for play, but the patio was barely useable, and the landscaping around the patio was very unattractive. "I wanted to make the backyard patio a space which could be enjoyed, not just tolerated," states Cowen.
When Dr. Cowen was contemplating a re-design for his backyard, he considered various landscape companies. Having used nCompass Homes for other renovations in the past, he knew that they were reliable and trustworthy, something not synonymous with other home renovation firms. He was also confident that the work would be completed with high quality, in a timely fashion, and on budget; so he chose the professionals at nCompass Homes to help him create the backyard.
"I knew my basic desires and layout, but they helped me put the whole design together, and made suggestions about other options as well. The design evolved to a wonderful outdoor living area with a built-in grill, fire pit, two level patio, putting green, and new landscaping," Cowen recalls. "This backyard has literally been transformed into a beautiful, fun living space which can be enjoyed by my family and guests. The team at nCompass Homes has done such an incredible job, that not only would I strongly recommend them, but I would absolutely use them again for future projects! It is hard to find a company which can be trusted to the extent I can trust nCompass Homes," Cowen adds.
###
About nCompass Homes
nCompass Homes, L.L.C., is a local remodeling and home building company that offers a full array of remodeling options, from kitchen, bath and basement finishes, to outdoor living areas and custom home design. nCompass Homes is locally owned and operated, and founded by John Keiley with over 30 years experience in the homebuilding industry. For more information on how nCompass Homes can make your renovations and new home dreams come true, call 303-641-8630 or visit www.ncompasshomes.com.
Contact
Anderson Marketing Solutions, Inc.
Barb Anderson
303-437-4627
www.andersonmarketingsolutions.net

Contact