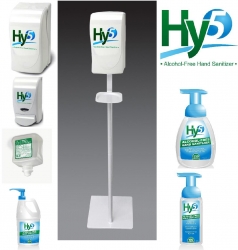 Fairfield, CT, August 09, 2010 --(
PR.com
)-- In connection with a January 2009 edict prohibiting alcohol-based hand sanitizer products on board US submarines, procurement staff across various Navy divisions have since been migrating their purchases to alcohol-free hand sanitizer products, which are recognized for being equally-effective, yet non-irritating to the skin and non-flammable.
A favored product is "Hy5," a foam-format, fragrance-free antibacterial/antiseptic product that uses the organic compound Benzalkonium Chloride as the active ingredient and manufactured for MGS Brands, Inc., a Connecticut-based, minority-owned enterprise. The Hy5 product is currently the only alcohol-free hand sanitizer with National Stocking Number designations provided by the US Defense Logistics Agency.
Noted company spokesperson Jay Berkman, "In recent years, various 'virus outbreaks' caused by easily-transmitted germs and bacteria has resulted in an ever-increasing focus on proper hand hygiene, and necessarily, an increased demand for hand sanitizer products. In turn, these events have put a spot light on the negative features of alcohol-based products. While these legacy products kill germs on contact (presuming hands are dirt-free prior to applying), they've also been associated with a growing number of unintended consequences and complaints, ranging from dry/irritated skin after-effect, to instances of abuse and, of course, the flash-point risks presented by these highly-flammable products. Coupled together, these issues have been driving factors in the demand for safer-to-the-skin, equally efficacious, non-alcohol hand sanitizer products."
According to MGS, the trend towards alcohol-free hand sanitizer has extended across all consumer and institutional sectors, including health care venues, as well as federal agencies and US Military. Stated Berkman "Virtually all of our institutional customers, including a cross section of federal office complexes as well as Army, Air Force and Navy installations, have come to us unsolicited, all saying they don't want to use, or in many cases, their organizations have formally prohibited the use alcohol-based products within their facilities."
MGS Brands' Hy5 product can be sourced via a variety of government and military procurement platforms, including the DLA Internet Bid Board System (DIBBS) under Cage Code 4WX84. Respective National Stocking Numbers for the various products, ranging from carry-size packages to wall-mounted, OSHA-compliant dispensing systems are displayed at
www.Hy5sanitizer.com
, which also facilities on-line purchase or purchase via the company's toll-free number, 877-495-5678. The company provides discounts on all products to US Government, US Military and non-profit entities.
###