Educated Patient Announces Opening of Tampa Bay Patient Education Center
Educated Patient just announced the opening of their first Patient Education Center in the Tampa Bay, FL area. Over 100 classes ranging from cancer, diabetes, mental illness to cardiovascular disease will be available to patients and their families.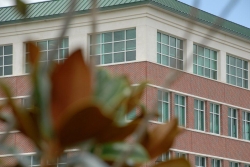 Saint Petersburg, FL, August 13, 2010 --(
PR.com
)-- Educated Patient has reached an agreement with Coastal Builders with plans to launch a major new Patient Education facility on Roosevelt Boulevard in Saint Petersburg, Florida. Also known as the Synovus Bank Building, Architects have designed a "patient friendly" learning space that caters to families battling cancer, cardiovascular disease, diabetes, mental illness and other chronic diseases. The new facility will allow for the growth of patient education and and support programs within the Tampa Bay area. The campus builds on the commitment to provide patients, families and physicians with courses, treatment and services, as well as the entire medical community.
The new four-story, 45,000-square-foot building was designed to meet the growing needs of the Tampa Bay population commuting between Clearwater, Saint Petersburg and Tampa. By providing the space necessary, a world-class patient education and support facility will be open for business by October 1, 2010.
In addition to the actual classroom space and lounge facilities, the campus also includes a handicap accessible half mile nature walk and 2 acre lily pond. Tree lined walkways and shaded benches are available for patients and their families during class break sessions and lunchtime use.
"This project caps off months of planning and ensures the the ultimate benefit to the public," Educated Patient's Management Team said. "Not only does the Building add space needed for faculty to continue research that lead to important new classroom content, it also will revolutionize important facets of patient training and extends Educated Patient's commitment to modern, compassionate services for patients and their families."
Classes are scheduled to begin this fall, with construction of five additional campuses throughout Florida expected through October 2012.
To find out more, visit Educated Patient's website at:
http://www.EducatedPatient.com
###
Contact
Educated Patient, LLC
Tom Jones
727-369-8700
www.educatedpatient.com

Contact