Northern Border Stays Secure While Saving Energy with LumaSmart LED Wallpacks
Transit company saves energy by switching to energy-efficient, environmentally-friendly LED lighting products.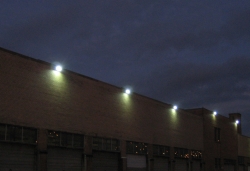 Macomb, MI, August 17, 2010 --(
PR.com
)-- Northern Border In-Transit, LLC (NBIT) located in Detroit, Michigan, has selected Lumasmart, a leading innovator and manufacturer of light-emitting diode (LED) products to upgrade its exterior lighting with LED wallpacks.
NBIT's transit facility located near the Detroit River will be the first location to install the LumaSmart LED Wallpack. LumaSmart's LED Wallpack, which draws 65 watts of electricity, will replace 400 watt High Intensity Discharge (HID) lights that currently draw 465 watts with ballasts factored in – an 85% savings in energy.
Typically, LumaSmart's LED Wallpack replaces 175 to 200 watt HID fixtures, but the energy management company for NBIT, Hybra Advance Technology, determined that the current 400W isn't very effective. Joe Thiel, CEO of Hybra, explains: "Typically, a bulb-type HID fixture may be only 60% effective – a lot of the light an HID fixture produces doesn't get to the intended target – it becomes light pollution or it can't get out of the fixture. The LumaSmart LED Wallpack puts light right were NBIT needs it: over the dock doors and on the driveway, and it does so very effectively…. without light pollution or trapping any light in the fixture. In addition, the LEDs in the LumaSmart Wallpack fixture provide a clear, fresh looking light for enhanced visibility and safety."
"Hybra and NBIT have tested all kinds of LED light fixtures," continued Thiel. "We have chosen LumaSmart LED products for exterior lighting for their high quality and reliability, as well as customer service."
LumaSmart's exterior LED lighting products use 50 to 90 percent less energy than conventional lights, and last up to 5 times longer. Factoring in both energy and maintenance cost savings results in a typical payback on investment of between 2 and 3 years; relative to this LED Wallpack application, NBIT's return on investment is just 18 months (exclusive of any utility incentives).
"We are pleased to provide NBIT with a cost-effective and environmentally-safe lighting solution," said Justin Palm, Director of Sales and Marketing for LumaSmart. "NBIT is part of a growing list of companies realizing energy and cost savings, while at the same time promoting a cleaner environment with LED lighting."
Partial funding for NBIT's LED Wallpack installation was provided by DTE Energy's Your Energy Savings Program.
About LumaSmart
LumaSmart Technology International, Inc. is a Michigan-based company with its production facilities located in Macomb, Mich. and sales outlets across North America. Its products include LED street lights, parking area lights, garage lights, street name sign lights, various interior lighting products, and LED retrofit solutions for numerous lighting applications. LumaSmart also manufactures LED light engines for various commercial customers and military applications. LumaSmart is a founding member of the Michigan Solid State Lighting Association.
Contact
Company:
Justin Palm
LumaSmart
Phone: 586-232-4125
###
Contact
LumaSmart Technology International, Inc.
Justin Palm
586-232-4125
lumasmart.com

Contact