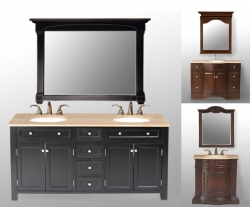 Anaheim, CA, August 20, 2010 --(
PR.com
)-- Better Baths, an online retailer of bathroom vanities, announces today that it has successfully negotiated a contract with an established and reputable manufacturer for traditional bathroom vanities. Building on the success of its online store (www.betterbathsonline.com) launch last month, the company has decided to move ahead with its expansion plans.
Traditional Bathroom Vanities
The online retailer has added several new product lines to fill the needs of its growing customer base. Its new line of traditional bathroom vanities will have two popular counter top options, Travertine and Black Galaxy Marble. These limestone tops have subtle patterns on the surface of the tiles and can create many interesting characters to any bathroom.
Hudson Le, VP of Procurement added, "We will continue to identify popular designs and seek to align Better Baths with well established factories in order to offer our customers more options along with the great savings."
The company's management team is confident that its current growth strategy will help the organization achieve its sales targets. The company's entire strategy is customer oriented and geared toward total customer satisfaction:
Designs – Better Baths is proud to offer the latest designs to its customers. It has a wide range of bathroom vanities that will suit the taste of almost any homeowner. From the more traditional designs to the more modern designs, anything is possible with vanities from the online retailer.
Stock Accuracy – Remodeling a bathroom is a major project that requires coordination between contractor/builder, homeowner(s), inspector, etc. It can be an expensive task that at time is also very stressful. The company understands that the bathroom vanity is often the most critical piece of the bathroom remodeling design. As such, Better Baths utilizes inventory management experience and tools to insure product availability, fast order processing, and prompt delivery.
Non-compromising Reasonable Price – Better Baths offer customers high quality products at a reasonable price. Consumers are not compromising on design or quality for savings. Customer savings are the results of a sound business model and a strong management team that are focusing on efficiency to lower costs not cutting corners. Never compromise.
Distinction – Bathroom vanities are always as a complete set. That means faucet(s) and mirror are always included in the price. Furthermore, shipping is always free for retailers from coast-to-coast. Shoppers are strongly advised to pay extra attention when doing price comparisons. Many retailers do not include and faucet(s) or mirror. These extra are options that will add to the cost of the vanity. Better Baths tries to eliminate the added stress of a remodeling project by provide a complete matching set ready for installation.
Prospective customers are encouraged to visit the company website (
www.betterbathsonline.com
) to review the products currently available or contact a sales representative for more information on current and future lines.
Better Baths is an online retailer connecting consumers directly to bathroom vanity importers and manufacturers. The company utilizes proven management strategies to increase efficiency and keep costs down, which translate into additional saving for customers. Buy Better products from a Better company.
###