Editor-in-Chief of Wired Magazine Promotes Freemium Business Model on Wix Website
Chris Anderson, editor-in-chief of Wired magazine, wrote a book about the Freemium model. He offers a free audio version of the book on a site created with free website builder Wix.com.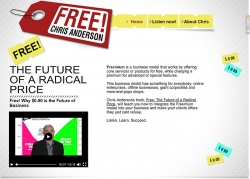 New York, NY, August 25, 2010 --(
PR.com
)-- Many modern and innovative companies employ what is known as the Freemium model: Skype, Pandora, Linked In and Flickr, to name a few. The idea behind Freemium is to offer a core service or product for free while charging a premium for advanced or unique features. Chris Anderson, Wired magazine's editor-in-chief, wrote his book "Free: The Future of a Radical Price," about the Freemium model.
A Match Made in Heaven
A loyal subscriber to his own theory, Anderson provides a free audio version of his book at
www.freemiumbusinessmodel.com
, a Flash website that was built by Wix.com. A match made in heaven, Anderson and Wix both promote and participate in the Freemium model. Anderson's site was created as a free resource for Wix users interested in the Freemium model.
Wix is a start-up company that developed a tool for the easy creation of personalized Flash websites. The tool consists of a
free website builder
available online, to anyone who follows a simple registration at Wix.com. Once inside the tool, users are exposed to a rich collection of free design elements that they can use to create a fully -customized
free website
with a simple drag & drop process.
The Value of Freemium
Offering a valuable product or service for free is a powerful way to generate a buzz, build a customer base and establish a brand. Freelancers, entrepreneurs and small business owners can all benefit from the Freemium model. Anderson describes the challenge presented to businesses using the Freemium model, as deciding what to offer for free, and what to reserve as a Premium feature.
In the Wix Freemium business model, users can design and publish their own Flash websites under the Wix domain. To connect to a personal domain free of the Wix URL, users can upgrade to a Wix premium package, available in both monthly and yearly subscriptions. There are several premium packages from which to choose, each offering a unique combination of advanced features. Users who upgrade to the eCommerce package, for example, can set up an online shop with a customized shopping cart widget, and sell products directly from their Wix websites.
Many of Wix' users are themselves small business owners, who can use the free audio version of Chris Anderson's book to learn how they can incorporate the Freemium model into their own businesses.
About Wix
Wix.com was founded in 2006 and released the beta version of its
website builder
in June of 2008. Wix is located in New York and has offices in Tel Aviv. The company is backed by Mangrove Capital Partners, Bessemer Venture Partners and Benchmark Capital.
###
Contact
Wix
Emily Sokolow
972-54-269-9300
www.wix.com

Contact