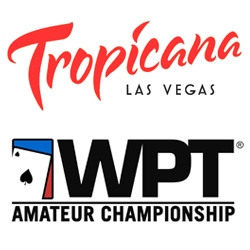 Wichita, KS, August 27, 2010 --(
PR.com
)-- World Poker Tour Amateur Poker League (WPTAPL™) and Tropicana Las Vegas, currently undergoing a Phase 1 $165-million transformation, are proud to announce their new partnership. These two innovative companies are joining forces to offer the poker community something never seen before, a worldwide amateur No Limit Texas Hold 'Em championship event. Tropicana Las Vegas will host the inaugural World Poker Tour Amateur Championship (WPTAC™) April 20th – 23rd, 2011, offering over $160,000 in cash and prizes.
The WPTAC will award multiple main events, boot camps, cruises, and much more to its winners. Tropicana Las Vegas and WPTAPL qualify players from participating leagues and venues around the world who want to advance their members and patrons to this event. This new partnership will allow for an attractive range of special joint offers from the two companies, including discounts and special tournaments available to WPTAPL members throughout the year.
Both companies expressed excitement about the partnership. "It's an exceptional combination of best-in-class brands, and Tropicana is honored to be considered home to the thousands of WPTAPL members," said Tom McCartney, president and COO of Tropicana Las Vegas.
Shane McCullough, executive vice president of WPTAPL, commented: "This WPTAC will be the largest event of its kind, making Tropicana Las Vegas a truly unique destination for poker lovers and WPTAPL members."
More information on this partnership and how to qualify for the event is available at www.WPTAPL.com. Tropicana Las Vegas and WPTAPL want to give players a chance to be the next WPT Poker-Made Millionaire™.
About WPTAPL:
World Poker Tour Amateur Poker League is a licensee of WPT and hosts free amateur poker events in a variety of host locations across the U.S., Canada, Puerto Rico, and soon will be opening up in the U.K. WPTAPL sanctions more than 30,000 No Limit Hold 'Em tournaments annually. WPTAPL events are conducted by sanctioned leagues who submit their results to WPTAPL for inclusion in the WPTAPL advancement structure. The results qualify members for a host of opportunities including, but not limited to, member-only online free rolls, live special events and, of course, their seat in the WPTAC hosted at Tropicana Las Vegas to play in one of the largest amateur championship events in the world. More information on WPTAPL is available at www.WPTAPL.com.
About Tropicana Las Vegas:
In the heart of the famed Las Vegas Strip, Tropicana Las Vegas is redefining the expectations of today's global travelers with a $165 million Phase 1 transformation scheduled for substantial completion in December 2010. The South Beach-inspired changes include new, best-in-class hotel rooms and suites, a new casino, 100,000 square feet of flexible meeting, catering and exhibit-hall space, more than four acres of tropical pool area, new restaurants, bars, a new poker room, and a state-of-the-art race and sports book. Exceptional entertainment includes Brad Garrett's Comedy Club and The Las Vegas Mob Experience, an interactive entertainment experience opening December 2010.
In addition to this transformation, the world's largest Nikki Beach will debut in spring 2011, making it the city's hottest destination. Nikki Beach at Tropicana Las Vegas will be the ultimate entertainment experience as the ultra lounge, nightclub and Cafe Nikki flow into the four-acre beach club.
The look and feel of the new Tropicana is vibrant and exciting, filled with the casual and sultry rhythm of a hot South Beach night. Tropicana Las Vegas is not affiliated with any other Tropicana property or brand. Additional information on events, amenities, and availability is available at 702-739-2222; and www.troplv.com. The latest Tropicana Las Vegas happenings can be found on Facebook (http://facebook.com/troplv) and Twitter (http://twitter.com/troplv).
####