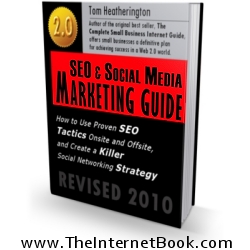 Kalispell, MT, August 30, 2010 --(
PR.com
)-- Author and business expert, Tom Heatherington, has announced the release of his newest book, "SEO & Social Media Marketing Guide." This digital publication represents Hetherington's twenty years of online marketing experience, and details how to leverage today's Web 2.0 resources and SEO to maximize local search results.
His book provides readers with a step-by-step online marketing blueprint that can help to increase website traffic and grow a network of potential customers and contacts. Readers will learn the essential steps needed to launch an ongoing web marketing campaign.
"My book explains every important tactic you need to attract targeted traffic organically, build a loyal following of customers and prospects, and how to market effectively to your social network of contacts," said Heatherington.
Having a website is essential in today's world, but just establishing a website is no longer enough. It must be optimized for search engines (SEO), and leveraging a website using social networking resources is crucial.
The book illustrates what SEO best practices entail and shows how social networking and can help build a brand online. These are invaluable marketing tools, but busy business owners are often overwhelmed by the process, and may not have the time, knowledge or personnel to implement a website marketing strategy. The "SEO & Social Media Marketing Guide" is geared to individuals and owners of small brick and mortar businesses that don't have the staff or resources available to devote to large marketing campaigns.
"It doesn't require a lot of money or technical expertise to optimize a website and promote it strategically online. As an example, there are a number of little-known resources that will list a website for free, which can help drive traffic to a site and generate highly-targeted leads. It's just good business sense to utilize these resources to help your business grow and thrive," says Heatherington.
The "SEO & Social Media Marketing Guide" addresses such topics as SEO, keyword research, obtaining quality backlinks and social media marketing. The book explains how to rank higher in search queries, and the importance of creating compelling keyword-rich content, in addition to social networking, blogging, social bookmarking and other core topics.
Heatherington is confident that, "If applied correctly, the information in the book will work for any business and I promise a 60-day, 100% money back guarantee if the book doesn't meet expectations."
When you purchase the book through the website, you can download it immediately and begin using the information to launch your online marketing campaign and start attracting new customers.
About the Author:
Heatherington is the co-founder of PICNet, one of the first ISPs in the country. He is the former president, COO and co-founder of Opinioneering Corporation and one of the original founders of Buy Local Montana. His first book, "The Complete Small Business Internet Guide," was one of the first Internet business books published by Macmillan. Tom served as vice-president of wireless products sales at NEC America and today he is the principle consultant and co-founder of The Webunet Group and founder/editor of the Log Home Directory.
For more information, visit
http://www.theinternetbook.com
###