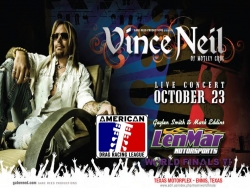 Dallas, TX, September 21, 2010 --(
PR.com
)-- The American Drag Racing League (ADRL) and Gabe Reed Productions (GRP) are pleased to announce that rock legend Vince Neil of Motley Crue will perform a free concert during the LenMar Motorsports ADRL World Finals VI on Oct. 23.
The LenMar Motorsports ADRL World Finals and the prestigious Speedtech "Battle For The Belts" takes place on October 22-23 at the Texas Motorplex in Ennis, TX, and Neil will be performing a 75-minute set in front of the capacity crowd on that Saturday evening between the semifinal and final rounds of eliminations.
A veteran rocker of more than 30 years, Neil has been the boisterous front man for Motley Crue, one of the most well-known rock bands in history. Neil's latest solo effort, "Tattoos & Tequila," has received rave reviews and his autobiography of the same title is a best seller. Motley Crue has sold more than 80 million albums worldwide and Neil has been at the forefront of that extreme lifestyle while performing classic hits like, "Girls, Girls, Girls," "Kickstart My Heart," and "Dr. Feelgood." Neil has long enjoyed a special relationship with the racing community and he jumped at the opportunity to perform in front of a huge audience at the Texas Motorplex. "This is a perfect marriage between Vince Neil and the excitement of ADRL drag racing," promoter Gabe Reed said. "Both are all about living life to the limit and having a good time."
Now in its sixth year, the ADRL is widely recognized as the nation's premier sanctioning body for the sport of eighth-mile drag racing thanks to its innovative business model. Drag racing is regarded as one of the fastest growing sports in the world and the ADRL is at the forefront of that movement. Its unique complimentary ticket approach has led to unprecedented growth and capacity crowds at each of the 10 events on its annual national tour, and mixing rock n' roll and drag racing is sure to attract a raucous crowd. "It's going to be great for fans to experience all the memorable ADRL action and one of the greatest rock n' roll legends during the same weekend," ADRL President and CEO Kenny Nowling.
"By adding Vince Neil to the already amazing entertainment package the ADRL has to offer, this is sure to be one of the most sought after tickets in entertainment history, and they're free!"
###