Health Resources Uncovers Research Supporting the Link Between Vitamin D Deficiency and Bone Strength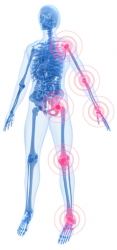 Hueytown, AL, September 22, 2010 --(
PR.com
)-- When it comes to health, most people may not even realize that they are deficient in key vitamins and minerals until it's too late. In fact, new research from medical professionals indicates that increased vitamin D intake, especially in the form of vitamin D3, may contribute to improved bone strength, according to The Vitamin D Council. And take the recent case involving Oscar-winning actress Gwyneth Paltrow, who revealed that she was experiencing a major vitamin D deficiency that led to her physician discovering that her bone structure was significantly weakened. Weak bones result from the loss of bone density, which if left unchecked, can lead to more serious conditions associated with bone demineralization.
So how can individuals help support optimal bone mineral levels and enhance their bone strength, while preventing this from becoming a continuing cause of their deteriorating health? Most experts agree that adding more vitamin D to the diet through foods and/or supplements can greatly increase the chances of improving bone strength. And contrary to decades of warnings about overexposure to the sun, a moderate amount of daily sun exposure can flood the body with vitamin D from the sun's rays. Research from The Vitamin D Council states that as little as 20 minutes spent in the sun produces up to 10,000 International Units (IU) of vitamin D. This is close to 50 times the amount of the United States government's recommendation daily allowance (RDA) of 200 IU per day.
Individuals who believe they may be vitamin D deficient can request blood tests that will determine how much is needed to regulate their individual levels. When it comes to vitamin D, a person shouldn't have too much or too little in their body. "Here is a situation where getting the supplement amount 'just right' counts," stated Kate Lindemann, Ph.D., a retired college professor who actually enhanced her bone density through various natural methods and supplementation.
A vitamin D deficiency can not only lead to decreased bone strength, but according to the Council, medical studies show that ensuring optimal and adequate levels of this vitamin may promote heart and cardiovascular health, support strong immunity, enhance mood and mental health, promote strong and healthy muscle function, and maintain healthy cellular function.
In fact, vitamin D is so important for the body that it helps maximize the use of other key nutrients including magnesium, zinc, vitamin K2, boron and vitamin A. However, obtaining and supplementing with the right kind of vitamin D can produce the greatest benefits for your health, as well. The Council states that vitamin D3, or cholecalciferol, is the most potent form of the nutrient and has strong health-promoting properties.
For more information about vitamin D3 supplementation, please visit HealthResources.net.
Company Bio
Health Resources has offices in Alabama and product manufacturing occurs in the United States. Products include special formulas to address such concerns as heart health, circulation, memory retention, general wellness, vitamin D deficiency, immune support, cholesterol support, blood sugar balance, women's and men's wellness, joint and bone health and digestive health. For information, visit www.healthresources.net.
Layne Lowery is the president of Health Resources™, a manufacturer of high-quality nutritional supplements. In the health business since 1994, Layne's passion is providing affordable natural health solutions and educational tools based on the best scientific research available to empower his customers to make wise decisions on matters of personal health.
###
Contact
Health Resources
Peyton Posey
256-736-5707
healthresources.net

Contact