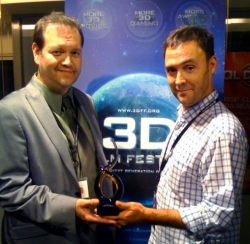 Los Angeles, CA, October 05, 2010 --(
PR.com
)-- "Safety Geeks: 3D" is the first 3D live action comedy web series and is produced by indie production company, Lumen Actus LLC. The award winning 3D series will be released for viewing on 3D computers, televisions, and 3D Blu-ray Disc products and was seen at a standing room only screening at the 3D Film Festival in Los Angeles on October 3rd 2010.
Produced by Dave Beeler and Tom Konkle, "Safety Geeks: 3D," follows the comic adventures of a semi-elite force of safety experts; the P.O.S.H. (Professional Occupational Safety Hazard) team who is obsessed with making the world along with bits of Canada a safer place. The show stars Brittney Powell, Benton Jennings, Mark Teich, Mary Cseh, David Beeler and Tom Konkle in the edgy, misadventures, of a CSI-like team investigates accidents to find out what went wrong and who is to blame, however, their involvement causes far more damage than they prevent, leaving a trail of chaos and destruction in their wake.
The 3D Film Festival, presented by RealD and The Los Angeles Film School, is produced by 3D live event pioneer The Dream Factory, and kicked off festivities on Thursday September 30th with a four-day event-filled program at the Los Angeles Film School's new RealD 3D-enabled screening room. Sony Electronics will also be providing its 4K digital cinema projector, with RealD being the exclusive 3D technology provider for the festival screenings.
"The modular nature of our show allows the original eleven web series episodes to play well for platforms like mobile and web video while the one hour "movie version" lends itself to big screen home entertainment systems or in this case what we will be airing the 3DFF," said Tom Konkle, "Safety Geeks" writer/producer. "Being able to show it to an audience of 3D enthusiasts (geeks) at the 3DFF is truly an honor for us."
The award winning "Safety Geeks" web series has received accolades and nominations for their creative content and special effects from the Streamy's, LA Web Series Festival, Stay Tuned TV and more. Beeler and Konkle use technology in the service of comedy instead of action or science fiction, which is why they decided to take "Safety Geeks" season one and make it into 3D. It's important to point out that the 3D process employed in "Safety Geeks: 3D" is not the traditional red and blue glasses technique dating back to the 1950's, but instead is the full stereoscopic 3D image using technology and processing from their own 3D and VFX company, Lumen Actus LLC.
David Beeler, "Safety Geeks" writer/producer added, "There are so many ways that "Safety Geeks: 3D" can be experienced now, it will be great to see how a theatre filled with 3D techno-geeks and fans of action/comedy genre react to the 3D experience."
"Safety Geeks: 3D" is presented in stereoscopic 3D and is current available as streaming video on the web, as part of the 3D media TriDef player, as video on-demand (VOD), and will soon be available on other platforms as well on next generation 3D televisions, computers, and hand held devices. "Safety Geeks: 3D" is also available at http://www.yabazam.com for on-demand download for Acer and Lenovo computers.
About Lumen Actus, LLC
Lumen Actus, is a Burbank, CA based visual effects company that produced "Safety Geeks: 3D". We produce series and films in all media and transmedia specializing in comedy. We do 2D to 3D conversion as well as stereoscopic production. We are a turnkey production company. "Safety Geeks: 3D" uses "stereoscopy" which is the most widely accepted method for capturing and delivering 3D video using stereo pairs in a two-view setup, with cameras mounted side by side, while being separated by the same distance similar to the distance between a person's pupils. According to a recent poll, 80% of moviegoers who have seen a 3D film on the big screen want to watch the movie in 3D at home. In 2009, 3D movies had a 10 percent market share driving home theater manufacturers like Sony, Panasonic, Samsung, and others to offer 3D TV sets in the US during 2010. For more information, please visit:
http://www.safetygeekssvi.com
###