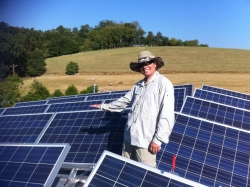 Knoxville, TN, October 19, 2010 --(
PR.com
)-- Construction Art, a leading alternative energy solutions provider completed the first state funded solar project in Tennessee. Funded in part by the Tennessee Solar Institute's installation grant program, this ten kilowatt solar system shown in the picture will help Chucky Creek Farms with their power bills for over twenty five years.
Mr. Tom Leach, operator and owner of Chucky Creek Farms, will receive a $2 per watt grant totaling $20,000 from the Tennessee Solar Institute.
In addition, the Tennessee Valley Authority will credit Chuckey Creek Farms twelve cents over their current rate for every kilowatt produced for the next ten years plus a $1,000 sign up bonus. After all available tax incentives are factored in; this project will have an approximate payback period of less than three years and will reduce the carbon footprint by approximately eleven thousand pounds of CO2 a year.
Mr. Leach pursued the project based on his concern on oil dependency and the environment. He hopes it will help improve the environment for his neighbors and future generations in addition to the savings on his electric bill. The owner is happy to see his electric output already reducing his carbon footprint.
"The contractor was very efficient, thorough and willing to go beyond the scope to get the job done in a timely manner. Quality of workmanship was superb and the selection of equipment was excellent," Mr Leach said. Solon Blue 230, SMA Sunny Boy 5000US inverters and Schletter racking composed this system configuration. The project was managed and completed by Construction Art of Afton, TN. With over ten mega watt experience through its allied company MW Solar from Baden Baden Germany, Construction Art provides the latest technology with superb craftsmanship at affordable prices. For more information call 888 930 2255 or visit www.ConstructionArt.us
###