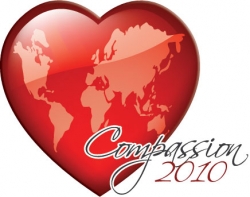 Mesa, AZ, November 04, 2010 --(
PR.com
)-- Compassion 2010 is an organization focused on helping to raise revenue for abused and disadvantaged Women's Charities.
These non profits depend on outside resources to finance their operations and are currently experiencing a particular increase in need due to the economic down turn.
Compassion 2010 will use all proceeds to contribute to the three non profits chosen for this year; The Rescue Project, bringing girls of all ages out of lives of sex trade and slavery, Maggie's Place, working to get girls off the streets, and The Soldiers of the Cross Women's Home, Helping women develop strong relationships with God and to become productive and successful community members.
Compassion 2010 was founded and is led by Heather Orlando, a local Realtor, and Michele Hunter, a Graphic Artist and successful Business Woman.
Together with their team of volunteers Compassion 2010 seeks to support the community by championing local non-profits. Revenue generated will be used to purchase much needed items used by these charities. Additional items to be donated can be found at:
Further information Contact Heather: (480) 695-8490 or Michele: (480) 238-5737
###