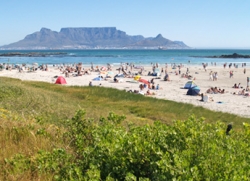 Cape Town, South Africa, October 28, 2010 --(
PR.com
)-- Capespirit.com, one of South Africa's favorite car rental websites, has just launched their summer special, and had a record number of car rental bookings for Cape Town and Johannesburg in the last few days.
South Africa is the 25th largest country in the world with an extensive coastline and diverse geography that stretches from the sprawling Cape mountains to the semi-desert region of the beautiful great Karoo, lush forests of Mpumalanga, bushveld landscape of Limpopo and tropical beaches of KwaZulu Natal. The country's road network allows travelers to traverse the entire region on a sophisticated matrix of generally well-maintained, tarred roads. The combination of an excellent road network and radically diverse terrain makes South Africa a treat for drivers.
"Taking to the open roads of South Africa in a motor-vehicle is undoubtedly the most desirable way to travel within, and explore our country. While our country has excellent low-budget airlines and bus services, traveling via these denies tourists the ability to stop off at the many points of interest scattered throughout South Africa, and get the most out of the country while traveling through it. As a result, rental cars are the preferred method of transportation for travelers to South Africa," says Cape Spirit's Sales Director Ian Gouws.
"Some of the benefits of our car rental packages are that Travelers receive unlimited mileage to explore our country, and that payment is only required when collecting the car in South Africa," says Ian. "The package also includes VAT, Airport Tax, Tourism Tax, Theft Lost Waiver, Collision Damage Waiver and 24 hour roadside assistance."
South Africa's beauty and diversity is best enjoyed by taking to the country's open roads and enjoying the scenery, historical landmarks, wildlife and culture of the country at one's own leisure. With so much to do, see and enjoy a rental car is definitely the best way to travel in South Africa this summer.
Visitors to South Africa can
book their South Africa and Cape Town Car Rental online now
from as little as R140 per day.
###