Source-Omega Reviews DHA Retroconversion Metabolic Dosing Using Algae Oil Omega-3s as a Fish Oil Substitute
"What all the human omega-3 red blood cell data independently points out is that DHA is always 3 to 8 fold more abundant than EPA in human blood and tissues, even after prolonged intake of high doses of omega-3s predominantly as EPA," says company scientist.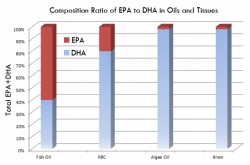 Chapel Hill, NC, November 10, 2010 --(
PR.com
)-- Today, Source-Omega revealed knowledge gained from their review of the omega-3 literature and published research. "What all the human omega-3 Red Blood Cell data independently point out is that DHA is always 3 to 8 fold more abundant than EPA in human blood and tissues, even after prolonged intake of high doses of omega-3s predominantly as EPA," says Scott Doughman, PhD., Chief Scientist at Source-Omega.
Source-Omega revealed their discussion, forwarding that composition studies in 1978 proved DHA is naturally the most abundant omega-3 form in the human body and blood in comparison to EPA levels in untreated individuals (Sanders et al., 1978). In 1986, a review by Herold and Kinsella of human volunteers treated with fish oil omega-3s revealed higher DHA fatty acid composition in red blood cells compared to EPA, despite high EPA intake (Herold and Kinsella, 1986).
Fish oils have been an abundant source of EPA, so fewer studies may have taken into consideration that DHA is the most abundant omega-3 long chain fatty acid because EPA was the main omega-3 given as a fish oil treatment.
When Conquer and Holub published on algae oil DHA treatment of human subjects in 1996, a detailed double-blind randomized placebo controlled study, the authors found blood omega-3 parameters consistent with humans taking high dosages of fish oil (Conquer and Holub, 1996). The 1996 study showed RBC increases in both DHA and EPA through accretion of DHA and retroconversion of DHA. Other metabolism studies have shown DHA is also a template that will provide all the C22, C20, and C18 omega-3s needed in the body through retroconversion, say Source-Omega scientists.
DHA delivers saturation levels of omega-3s to RBC membranes when the DHA dosage for adult clinical use begins with 1.0 g to 1.2 g DHA per day, which company results, or previous published studies show can provide saturation levels of omega-3s within 90 days (Arterburn et al., 2008).
The scientific literature shows high-dose DHA derived from microalgae lowers hypertriglyceridemia after 90 days of treatment, by up to 26 percent with at least 1 g DHA daily (reviewed by Ryan et al., 2009). With a safe, effective dosage range for any adult, the GRAS safety registration of algae oil and the dosage range have been positively ruled-upon, as such, by several international regulatory bodies.
"The summary of these historical studies together suggest 'directional omega-3 metabolism', where fish oil is 'uphill' and algae oil is 'downhill'. EPA intake leads to multistep synthesis to DHA with fish oil. DHA intake leads to a single step retroconversion to EPA with algae oil. The body knows how to balance its final levels from each direction, but 'downhill' appears more efficient at high omega-3 doses," said Doughman.
Each method then flows towards a somewhat pre-defined homeostatic balance of cellular and tissue specific omega-3 compositions, the data suggest.
Since the DHA retroconvertion dosing strategy is the opposite of fish oil, Source-Omega's patent pending claims are on the dosage use and method of 1200 mg DHA + 40 mg EPA per day as metabolically ideal for certain health claims and postprandial triglyceride lowering benefits [References Available upon request from Source-Omega].
About
Source-Omega
: Source-Omega, LLC is headquartered in Chapel Hill, North Carolina, near the Research Triangle Park. It was founded in 2007 and specializes in the international marketplace for manufacturing, branding, private labeling and globalization of algae oil nutritional products under the name and formula Pure One™, the Next Generation Plant Based Omega-3™ for their Omega-3 DHA Therapy™, for clinics offering triglyceride lowering plasma lipids management programs and for pregnancy, nursing and family care.
###
Contact
Source-Omega, LLC
Gene Wolf
919-360-5275
www.source-omega.com
52 Norwood Rd
Chapel Hill, NC 27516
USA

Contact