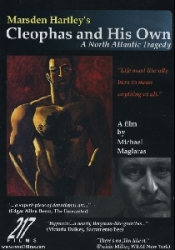 Sacramento, CA, November 12, 2010 --(
PR.com
)-- On Thursday, Dec. 2 at 5:30 p.m., director Michael Maglaras of 217 Films will return to Sacramento to screen "Cleophas and His Own" at the Crocker Art Museum. This film made its west coast premiere in 2006 during the Crocker's Marsden Hartley retrospective.
"We are delighted to return to Sacramento with 'Cleophas and His Own,'" said Maglaras. "And, in particular, to return to the Crocker, which is one of the most vibrant and stimulating regional art museums in the United States."
"Cleophas and His Own" is a powerful and poignant elegy written by American modernist painter and poet Marsden Hartley to ease his grief over the death of the young man who had been the great love of his life. In September 1943, in the remote fishing village of Corea, Maine, the manuscript of this secret, unpublished narrative was discovered among his personal belongings just a few days after his death.
The film presents Hartley (played by Maglaras) seated in his makeshift studio where, tired and ill, he recounts a tragic story to an unseen visitor of the sad fate that befell the Francis Mason family: a family of farmers and fishermen with whom he lived on a remote island in Nova Scotia seven years before. Using Hartley's text in its entirety and preserving the poem's thirteen-chapter structure, the film uses flashbacks and employs 24 of Hartley's paintings and drawings to tell of the events leading up to and following the Atlantic hurricane of September 19, 1936, when he lost the love of his life.
Following the death of this young man, the last seven years of Hartley's life were devoted to reliving these experiences through poetry and painting, leaving behind a unique body of work devoted to this man's memory and his love the Mason family.
What: "Cleophas and His Own" director Michael Maglaras will introduce the film.
When: Thursday, Dec. 2 at 5:30 p.m.
Where: Crocker Art Museum
216 O Street
Sacramento, California
918-806-7000
Cost:
$6 members / $10 nonmembers / $12 nonmembers including Museum admission
Purchase tickets at www.crockermusuem.org or the Admission Desk
For more information:
217 Films Website: www.two17films.com
217 Films Blog: www.two17films.blogspot.com
Crocker Art Museum Website: www.crockermuseum.org
###
Media Quotes:
"...holds the viewer spellbound from start to finish..." ~ Peggy Parsons, National Gallery of Art
"A superb piece of devotional art...be prepared to savor the experience..." ~ Edgar Allen Beem, Portland Forecaster
"Maglaras is mesmerizing as Hartley. 'Cleophas and His Own' channels the artist's passion and suffering-and vision-with remarkable grace and drama, heightening our appreciation of the painter, writer, and man." ~ Carl Little, Art New England
"There's no film like it." ~ Prairie Miller, WBAI New York City
"A penetrating performance of understated intensity...a passionately rendered ode..." ~ Jason Gargano, Cincinnati CityBeat
"Hypnotic...this haunting film illuminates Hartley's life and work with a nearly Bergman-like gravitas." ~ Victoria Dalkey, Sacramento Bee