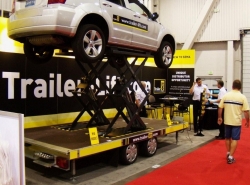 Las Vegas, NV, November 13, 2010 --(
PR.com
)-- Trailer Lift Ltd, a company based in the UK has won the prestigious Global Media Award at this year's SEMA Show in Las Vegas. Their new product Trailer-Lift looks like a traditional vehicle trailer but incorporates a specially adapted scissor lift. The company has been developing the product for over 2 years which is now patented and has recently gained the European CE Mark. It has already been well received in the UK market and is being used by Europe's largest vehicle recovery company the AA (Automobile Association). Major motor sport teams, Jaguar Cars, Subaru, UK government agencies, and premium car dealerships are all accredited users of the product.
Trailer-Lift is part of the MMC Group which was established in 1964 and is based in North Yorkshire. Tim McCullagh (Managing Director) commented, ''A lot of time and effort has gone into the research and development of the product but we feel it has been very worthwhile as the finished item is amazing. We are all very proud of what we have achieved and are really excited about the future of the product. We could not have asked for a better reaction at the SEMA Show and winning the award just made the whole experience even more satisfying."
What makes the trailer so unique is that it can transport vehicles and lift them in the air for inspection, repairs or display. It can lift vehicles to a height of 10 feet in less than 35 seconds via remote control and the lift can be stopped at any point so that the vehicle can be serviced or repaired at the most convenient height. The hydraulic lift is powered by a self-contained 24v battery which can be charged from the towing vehicle, therefore no external power supply is required.
One of the Global Awards Judges who selected Trailer-Lift was Espen Skogen, Editor of the Norwegian Car Mag; Kjope Bil and this is what he had to say, "I chose to select Trailer-Lift because I believe it has the potential to do very well in all markets. One side of it is road side repairs (AAA etc) - a totally different market is the motorsport and track day market. In Norway, both rally related events and track days are popular, people are bringing all kinds of jacks and means to get their wheels changed and repairs done as quickly as possible – and some people even go as far as to mount air jacks in their cars to get things done quickly. With the Trailer-Lift, all these problems are eliminated."
The reaction from the UK motor sector has been fantastic as the product can transform client's businesses from roadside assistance companies to car dealerships and mobile mechanics to motor sport enthusiasts, the Trailer–Lift product can open up so many new opportunities to enhance their respective businesses. James Read, Mobile Mechanic from Lincolnshire in the U.K. commented, "'Using Trailer-Lift has benefitted my customers by being able to carry out repairs on the spot. That also means I can increase the number of calls I can make in a day, which in turn increases my profit. I now believe that my original calculations on payback time will be halved."
The company is now poised to recruit a distributor network across the States and Canada and are already in talks with some of the distributors who visited the SEMA Show. David Bennison (Sales and Marketing Director) commented, "We will not be rushing into appointing distributors as the selection of our distribution partners is of paramount importance. Only dynamic and progressive companies who share the same vision and will adopt the marketing strategy created by Trailer Lift Ltd will be appointed."
Trailer Lift can be contacted in the USA. Contact: Peter Phillipson Tel: 870-445-3847 or Email: p.phillipson@bullshoals.net
Or UK office: Contact David Bennison (Sales & Marketing Director) Tel: 44 (0) 1642 718945
Email: David.Bennison@trailer-lift.com
###